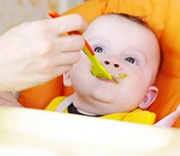 © IVOLUDINA/STOCK.ADOBE.COM MODEL USED FOR ILLUSTRATIVE PURPOSES ONLY
Preventing food allergy by early introduction of allergenic foods
By Nicole MacKee
Early introduction of potentially allergenic foods may help to prevent food allergies in infants at high risk of allergies, researchers have reported in the Journal of Allergy and Clinical Immunology.
In a secondary analysis of the Enquiring About Tolerance (EAT) study, researchers found that infants at risk of developing food allergies – such as those with early-onset food sensitivities or visible eczema – may benefit from the introduction of allergenic foods between the ages of 3 and 6 months.
The UK study included more than 1300 breastfed infants, enrolled at 3 months of age, who were randomised to receive six allergenic foods (cow's milk yoghurt, peanuts, egg, sesame, white fish and wheat) or to be exclusively breastfed, over the subsequent three months. They were assessed at 1 and 3 years of age.
Among those with food sensitivity at enrolment, the early introduction of potential allergenic foods resulted in significantly fewer cases of food allergy to one or more foods (19.2% compared with 34.2% in the control group).
Infants with eczema at enrolment were also less likely to develop a food allergy with the early introduction of allergenic foods (22.6% in the early introduction group compared with 46.7% in the control group).
The researchers said the early introduction strategy was efficacious despite low adherence (42%) in the early introduction group. An accompanying paper by the same research team noted that infant refusal, caregiver concern and practical barriers impacted on rates of adherence.
Dr Kirsten Perrett, Clinician Scientist Fellow at the Murdoch Children's Research Institute and Paediatric Allergist at Melbourne's Royal Children's Hospital, said the findings were 'extremely important and good news for families of children at high risk of food allergy'.
She said the current infant feeding guidelines, introduced by the Australasian Society of Clinical Immunology and Allergy in 2016, recommended that, for all infants, a variety of solid foods should be introduced around the age of 6 months, but not before 4 months. And all infants, including those at high risk of allergy, should be given allergenic solid foods – including peanut butter, cooked egg, dairy and wheat products in the first year of life (https://www.allergy.org.au/ images/pcc/ASCIA_Guidelines_infant_feeding_and_allergy_prevention.pdf).
'A recent paper from our group has shown that Australian parents are following the new infant feeding guidelines with a striking shift toward earlier peanut introduction from 28% pre-guidelines in 2007 to 2011, to 88% in 2017 to 2018, with most children in Australia introducing peanut and egg by 6 months of age,' Dr Perrett said, adding that the allergy outcomes of this shift were currently being analysed (J Allergy Clin Immunol 2019; 144: 1327-1335.e5).