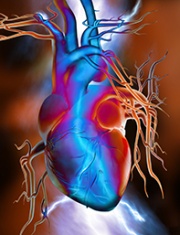 Psychological distress shown to increase cardiovascular and all-cause mortality
By Jane Lewis
Persistent moderate to severe psychological distress is associated with a substantial increase in cardiovascular (CV) and all-cause mortality in patients with stable coronary artery disease, suggests new research published in the journal Heart.
'In this trial, we were able to convincingly show for the first time that feeling persistent significant stress is bad for your heart,' Professor David Colquhoun, cardiologist at Wesley Medical Centre and Greenslopes Private Hospital in Brisbane, and an author of the paper, told Medicine Today. 'We all feel intermittent stress – that's life. But persistent, moderate to severe stress is not OK; it's dangerous for your health.'
The study was based on data collected at centres throughout Australia and New Zealand, from 950 participants in the Long-Term Intervention with Pravastatin in Ischaemic Disease (LIPID) trial, who were aged 31 to 74 years and had a history of acute myocardial infarction or hospitalisation for unstable angina in the previous three to 36 months. Using General Health Questionnaires (GHQ-30) filled out at baseline and after 0.5, 1, 2 and 4 years, the researchers evaluated the risk of CV and total mortality by increasing levels of psychological distress over a median of 12.1 years. The categories of psychological distress were: never distressed; sometimes, any severity (GHQ score >5); persistent mild (GHQ score >5 on three or more occasions) and persistent moderate distress (GHQ score >10 on three or more occasions).
Persistent moderate or greater psychological stress was reported on three or more assessments by 35 (3.7%) subjects. After adjusting for a wide range of biological risk factors, the researchers found that these patients had a significantly higher risk of both CV death (adjusted hazard ratio [HR], 3.94) and all-cause mortality (adjusted HR, 2.85) compared with patients with no distress. Patients who reported persistent mild distress or occasional distress did not have an increased risk of CV or all-cause mortality.
'This adds to what we know about psychological factors and heart disease,' said Professor Colquhoun. 'Patients who are depressed, anxious and distressed are at higher risk, and these are the patients we need to take more time with.'
'Ask your heart patients how they are going, and make sure you incorporate the first two questions on the PHQ2 [Patient Health Questionnaire 2]. These are very useful for helping diagnose depressive disorders,' he advised.
The author of an accompanying editorial described the study as 'important and elaborative' and said it 'suggests that persistent psychological distress needs to be addressed with multistep interventions.'
'Clinicians should make the screening of psychological distress a constituent part of the routine assessment of patients with CHD,' the editorialist wrote.
Heart 2017; doi:10.1136/heartjnl-2016-311097.
Heart 2017; doi:10.1136/heartjnl-2017-311610.
Picture credit © Science Source/Mike Agliolo/Diomedia.com