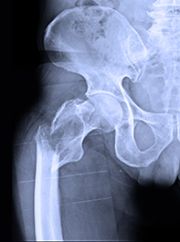 © JARVA JAR/SHUTTERSTOCK.COM
Reassuring findings for SGLT-2 inhibitor use and fracture risk
By Dr Emily Lathlean MB BS, FRACGP
A Canadian population-based cohort study has found no increased risk of skeletal fractures in patients with type 2 diabetes newly started on sodium-glucose cotransporter-2 (SGLT-2) inhibitors compared with patients initiated on dipeptidyl peptidase-4 (DPP-4) inhibitors.
The study, published in the Clinical Journal of the American Society of Nephrology, assessed a cohort of adults aged 66 years or above (38,994 new users of an SGLT-2 inhibitor and 37,449 new users of a DPP-4 inhibitor) between 2015 and 2019. In total, there were 342 fractures at 180 days and 689 fractures at 365 days. There was no significant difference in the risk of fragility fracture between the two groups, even in patients with an estimated glomerular filtration rate (eGFR) of 30 to 90 mL/min/1.73 m2.
The researchers noted that SGLT-2 inhibitors, which reduce renal glucose reabsorption, were recommended in patients with mild to moderate diabetic kidney disease but that in some trials their use had been reported to increase the risk of skeletal fracture.
Professor Jacqueline Center, Endocrinologist at St Vincent's Hospital, Sydney, and Senior Principal Research Fellow at the Garvan Institute of Medical Research, said it was a well conducted study.
'It is a useful study and provides some reassurance for the safety of SGLT-2 inhibitors in the setting of diabetes and mild chronic kidney disease (CKD),' Professor Center said. 'However, there were few participants in the CKD group [with an eGFR of] 30 to 45 mL/min/1.73 m2, so I don't think it addresses the safety of SGLT-2 inhibitors in more than mild CKD and not in CKD [with an eGFR of] less than 30 mL/min/1.73 m2 (although it is not advised to use them in advanced renal disease in any case).'
Empagliflozin, canagliflozin and dapagliflozin were the SGLT-2 inhibitors prescribed in the study. 
'The other important points were that the majority of the scripts were for empagliflozin so there is less certainty about dapagliflozin or canagliflozin (the latter is not available in Australia),' Professor Center said. 'Follow up was only for 12 months, but there did not appear to be any signal for increased fracture, although one could not be so certain about long-term fracture risk.'
Professor Center called for long-term studies to better evaluate fracture risk beyond 12 months but said overall the findings were reassuring.
'I think clinicians can be reasonably reassured about the use of SGLT-2 inhibitors in patients with diabetes and in patients with diabetes and mild renal impairment, particularly given the benefits for cardiovascular disease and renal disease progression,' she said.
CJASN 2022; 17: 835-842.