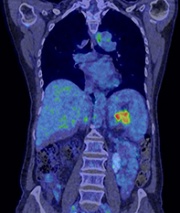 © CENTRE JEAN PERRIN, ISM/SPL
Recent-onset diabetes plus weight loss may predict pancreatic cancer
By Melanie Hinze
Recent-­onset diabetes, accompanied by weight loss rather than weight gain, is associated with a substantially increased risk of developing pancreatic cancer, according to research published in JAMA Oncology.
Conjoint Clinical Professor David Goldstein, a senior staff specialist in the Department of Medical Oncology at Prince of Wales Hospital, Sydney, said that this was a highly significant and large population study.
'It reinforces the increasing evidence that recent onset of hyperglycaemia and type 2 diabetes with weight loss, as opposed to the more typical weight gain, should alert community GPs and endocrinologists to the possibility of an underlying pancreatic malignancy,' he told Medicine Today.
In this cohort study of 112,818 women (mean age 59.4 ± 11.7 years) and 46,207 men (mean age 64.7 ± 10.8 years), with 4.5 million person­-years of follow up, 1116 incident cases of pancreatic cancer were found.
Participants were enrolled from the US Nurses' Health Study, which began in 1976, and the Health Professionals Follow­Up Study, initiated in 1986. Follow-up occurred in 2018.
Although recent­-onset diabetes and weight loss were both independently associated with pancreatic cancer risk, people with more than 3.6 kg (8 lb) weight loss plus recent-­onset diabetes had 6.75­-fold risk of pancreatic cancer compared with those with no weight loss nor diabetes. Those who lost between 0.45 kg (1 lb) and 3.6 kg had a 3.61­-fold increased risk.
Risk was further increased among those with older age, healthy weight before weight loss and unintentional weight loss.
'A relative risk rate of six-­ to 10-­fold translates into a 2 to 4% risk of being diagnosed in the subsequent four years,' said Professor Goldstein.
The study authors noted the high mortality rate of pancreatic cancer, with patients often presenting with advanced, incurable disease, and said patients diagnosed early had the potential to be cured.
However, Professor Goldstein said that although it was a very reasonable hope that this might represent an opportunity to investigate and diagnose pancreatic cancer at an early enough stage to intervene and improve outcomes, this remained to be proven. He added this was also the case for the cost-effectiveness of investigations, on a number needed to investigate per life year saved.
JAMA Oncol 2020; doi:10.1001/jamaoncol.2020.2948.