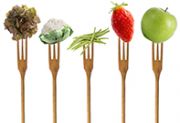 © JPC-PROD/STOCK.ADOBE.COM
Research reinforces five serves of fruit and vegetables as optimal for health and longevity
By Melanie Hinze
New research provides more evidence supporting the consumption of five servings of fruit and vegetables a day for optimal health and longevity.
Published in Circulation, the study concluded that five servings of fruit and vegetables per day, and specifically two of fruit and three of vegetables, was the optimal amount for reducing future total, cardiovascular, respiratory and cancer mortality outcomes.
Associate Professor David Colquhoun, Co-President of the Clinical and Preventive Cardiology Council of the Cardiac Society of Australia and New Zealand (CSANZ), told Medicine Today that, although this finding wasn't altogether new, the research was very robust, accurate and reproducible, using carefully validated dietary questionnaires, with much more powerful follow up than previous studies.
'Put simply, this research confirms what we know, but we now have more confidence that what was said in the past is true,' he said.
The study followed 66,719 women from the Nurses' Health Study for 30 years (1984 to 2014) and 42,016 men from the Health Professionals Follow-up Study for 28 years (1986 to 2014). Diet was assessed using a validated, semiquantitative food frequency questionnaire at baseline and every two to four years.
When compared with two servings of fruit and vegetables per day, five servings was associated with a 13% reduced risk of total mortality, a 12% reduced risk of cardiovascular disease mortality, a 10% reduced risk of cancer mortality and 35% reduced risk of respiratory mortality. More than five servings was not associated with any additional risk reduction.
However, intake of fruit juices and potatoes was not associated with reduced total or cause-specific mortality. The study authors explained that these foods have high glycaemic load values and reduced nutrient content. As such, they said this finding differed from many dietary guidelines that in general treated all types of fruit and vegetables the same.
The study authors concluded that this research, in addition to the evidence from prior research, should encourage healthcare professionals to recommend patients increase their fruit and vegetable intake to five serves a day, not including fruit juices or potatoes.
Circulation 2021;143: 00-00; doi: 10.1161/CIRCULATIONAHA.120.048996.