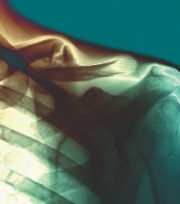 Risk of death increased for up to 10 years after fragility fracture
By Melanie Hinze
Risk of death is increased for 10 years after hip fracture and for about five years after a proximal or lower leg fracture, according to a Danish nationwide, registry-based follow-up study published in The Journal of Clinical Endocrinology & Metabolism.
Although it is known that hip fractures increase mortality risk in older people, this is the first study to look at how long this increased risk lasts for different types of fracture, the study authors wrote.
The study included all individuals in Denmark aged 50 years or older who first experienced a fragility fracture in 2001. The contribution of fracture to mortality risk was then assessed at precise time intervals post-fracture, up to 10 years.
Of the 21,123 women and 9481 men who had fragility fractures in 2001, 10,668 and 4745, respectively, died during follow up. 
Excess mortality was reported following all proximal and lower leg fractures, with most deaths occurring within the first year post-fracture and gradually declining thereafter.
Hip fractures were associated with the highest excess mortality, which at one year was 33% for women and 20% for men. One-year excess mortality for other fractures was 20 to 25% for femur or pelvis fractures; 10% for vertebral fractures; 5 to 10% for humerus, rib or clavicle fractures; and 3% for lower leg fractures.
A significant risk of death was still observed 10 years after a hip fracture and approximately five years after femur, other proximal and lower leg fractures. 
Professor Gustavo Duque, Chair of Medicine at Western Health and Director of the Australian Institute for Musculoskeletal Science, Melbourne, said that although it was well known that osteoporotic fractures – mostly hip fractures – were associated with increased mortality, this study showed that other fragility fractures were also associated with increased and persistent mortality.
'While the causes of death and the mechanisms explaining this association remain unclear, this new evidence correlates with previous reports that osteoporosis treatments (oral and intravenous bisphosphonates) are also associated with reduced mortality post-fracture.'
Professor Duque told Medicine Today that this confirmed the importance of early intervention following a minimal trauma fracture.
J Clin Endocrinol Metab 2018; doi: 10.1210/jc.2017-02656.