Self-guided online CBT effective for depressive symptom treatment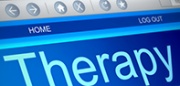 By Bianca Nogrady
Self-guided internet-based cognitive behavioural therapy (iCBT) may be as effective as other forms of care for people with depressive symptoms.
An international team of researchers performed an individual meta-analysis using data from 3876 participants in 13 randomised clinical trials that compared self-guided iCBT with a control such as usual care, waiting list or attention control.
The analysis, published online in JAMA Psychiatry, found iCBT was significantly more effective than controls in reducing the severity of depressive symptoms, and showed a significantly greater treatment response.
'The current findings indicate that we need to treat eight individuals with depressive symptoms with self-guided iCBT to expect a 50% symptom reduction,' the study authors wrote.
'Although this number needed to treat (NNT) is relatively large and its clinical relevance could be doubted, it can still have a considerable effect when large groups of patients use the treatment, especially considering the low costs of self-guided iCBT.'
Four of the trials included in the study provided support for the technical aspects of the online platforms, whereas nine trials involved programs that were purely self-guided. The number of online sessions ranged from five to 11.
The overall participant population showed mean baseline depressive symptoms scores of 25.7 on the Center of Epidemiologic Studies–Depression Scale, 28.3 on the Beck Depression Inventory and 14.1 on the 9-item Patient Health Questionnaire in their respective studies.
Coauthor Professor Helen Christensen, Director of the Black Dog Institute in Sydney, said the findings were the nail in the coffin for the idea that self-help therapy wouldn't work but the challenge was implementing these programs.
'This is one of those problems where we have a disconnect between what is effective and what can be put into practice more globally,' Professor Christensen told Medicine Today.
Professor Christensen said there were several reasons why even high-quality online CBT programs struggled to gain acceptance.
'I think clinicians are concerned that if they recommend one of these programs they won't be exercising due diligence,' she said.
Another issue was that there were no incentives for people to develop and build high-quality programs, so most of the existing programs were developed out of universities.
Professor Christensen said online CBT programs were cost-effective and scalable, and had the potential to fill a gap in the provision of mental health services for people with mild-to-moderate depression.
JAMA Psychol 2017; doi: 10.1001/jamapsychiatry.2017.0044. 
Picture credit © Creative Soul/Stock.adobe.com