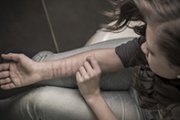 Self-harm management guidelines advocate nonpharmacological interventions
By Bianca Nogrady
Psychological and psychosocial interventions should be the mainstay of managing patients who present to hospital after deliberately self-harming, say the authors of new guidelines from the Royal Australian and New Zealand College of Psychiatrists.
The clinical practice guidelines, published in the Australian and New Zealand Journal of Psychiatry, are an update on the 2004 guidelines, which were limited to adults.
The most common form of deliberate self-harm presenting to acute care services is self-poisoning, followed by self-cutting. However, the people who do present to hospital are likely to be only a small subset of those who self-harm in the community.
'Up to one in five people repeat DSH [deliberate self-harm] within the first year after an episode of hospital-treated DSH, but most people never repeat DSH at all,' the authors wrote.
The authors of the guidelines found that psychological or psychosocial therapies, such as cognitive behavioural therapy and psychodynamic interpersonal therapy, were effective at reducing the risk of a repeat episode in the general population of patients who deliberately self-harm.
Even brief contact interventions were found to be effective, but the authors said the limited evidence from randomised controlled trials showed pharmacological interventions did not reduce the risk of a repeat episode.
Head of the guidelines committee, Professor Gregory Carter, said the causes and types of patients who self-harm are very broad. Individuals who self-harm may have a mental illness, such as depression, anxiety, bipolar disorder, a personality disorder or substance use. They may be experiencing social issues such as relationship, housing or financial difficulties or domestic abuse.
'The only thing that's typical is they're all distressed and all at a time in their life when they need help,' Professor Carter, from the University of Newcastle and Calvary Mater Newcastle Hospital, told Medicine Today.
Managing patients who self-harm, and preventing another episode or a suicide attempt, requires a two-part approach, he said.
The first is to introduce psychological interventions that are evidence based and aimed at reducing repetition of self-harm.
The second part is to address the stressors and risk factors that might have triggered the self-harming behaviour. Evidence-based interventions can be used to address depression, anxiety, bipolar disorder personality disorder and substance use disorder. Other interventions aimed at reducing the impact of social issues can also be implemented.
He also advocated for better mental health literacy so that patients are able to find and access help that is targeted to their particular situation.
Aust N Z J Psychiatry 2016; 50: 939-1000.
Picture credit: © grummanaa5/iStockphoto. Model used for illustrative purposes only.