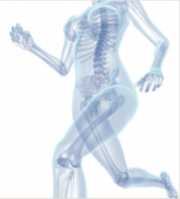 Short bursts of high intensity activity may improve bone health in women
By Nicole MacKee
Short bursts of running or jogging each day may help to improve bone health in pre- and postmenopausal women, say UK researchers. 
In their cross-sectional study, published in the International Journal of Epidemiology, the researchers investigated the association between bone density and high-intensity physical activity in 1218 pre- and 1326 postmenopausal women. 
The researchers found that women who spent one to two minutes each day engaged in high-intensity physical activity – equivalent to running in premenopausal women and slow jogging in postmenopausal women – had 4% better bone health than those who spent less than one minute exercising. Women participating in more than two minutes' vigorous activity daily had 6% better bone health. 
Physical activity was measured objectively over seven days using wrist-worn accelerometry-based activity monitors, and bone health was measured using bone mineral density T-score, speed of sound and broadband ultrasound attenuation. 
Professor Adrian Bauman, Sesquicentenary Professor of Public Health at the University of Sydney, said the scientific measurement of activity tracking and bone density measurement were key advantages in this study. 
'It's a huge study, it has very good objective measurement of physical activity using new accelerometry techniques, and it has very careful and substantially improved measures of bone density,' he told Medicine Today. 
However, he said, it was a cross-sectional study, and a longitudinal study would be needed to confirm that the association was causal. 
'This study adds to the general impression that vigorous activity is necessary for bone health,' Professor Bauman said, adding that the beneficial effects of exercise on bone health had been known for some time. 'It's not just walking around and incidental activity that is needed, it may be that more vigorous exercise, particularly weight-bearing vigorous exercise, is necessary to improve bone health.' 
He noted that although the study was conducted in adult women, the message was pertinent to girls in their adolescent years. 
'Adolescence is a time when bone deposition occurs and is critical for bone health, but it is also a time when many girls give up being physically active,' he said. 'This is another piece in the puzzle of increasing evidence that vigorous physical activity is good for bone health, so we should be promoting it, particularly in adolescents.' 
Professor Bauman said that achieving the levels of physical activity evaluated in the study could be difficult for some middle-aged people, and regular exercise of any intensity was better than no exercise at all. 
'We shouldn't throw the "take the dog for a walk and use the stairs" message out with the bathwater.'
Int J Epidemiol 2017: 1-10; doi: 10.1093/ije/dyx080.
Picture credit: © Sebastian Kaulitzi/Shutterstock