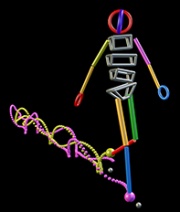 © VRX/123/STOCK.ADOBE.COM
Slow gait speed: not only a geriatric concern
By Nicole MacKee
Slower gait speed at midlife may be a sign of 'accelerated ageing', according to New Zealand research that also suggests that midlife walking pace may be traced back to brain health in the preschool years.
In a study of more than 900 people – followed up regularly from age 3 to 45 years – researchers investigated the association between midlife walking pace and physical and biological indicators of accelerated ageing, as well as neurocognitive functioning at age 3 and cognitive decline from childhood to midlife.
The study, published in JAMA Network Open, found that a slower gait speed at age 45 was associated with compromised brain integrity (including smaller brain volume and cortical thinning), poorer physical functioning (including weaker grip strength and poor balance), older facial appearance (evaluated by an independent panel) and more rapid deterioration in 19 biomarkers (including body mass index, cardiorespiratory fitness, total cholesterol level, gum health and blood pressure).
The researchers also found that slower midlife gait speed was associated with lifelong compromised brain health and neurocognitive functioning at age 3 years.
In an accompanying editorial, Dr Stephanie Studenski, a US geriatrician and rheumatologist, said the findings confirmed that a subset of people in their 40s were already ageing more quickly than their peers and showing signs of future health challenges.
Dr Studenski, who specialises in mobility and falls in older adults, wrote that gait speed was a 'simple, inexpensive indicator of wellbeing across adulthood. Let's pay attention and use it.'
Professor Emmanuel Stamatakis, Professor of Physical Activity, Lifestyle and Population Health at the University of Sydney, said the study was interesting, but did not take into account important lifestyle factors, such as diet and physical activity across adolescence and young adulthood.
Professor Stamatakis said the findings did reinforce the importance of gait speed as an indicator of future health outcomes. His own research had shown an association between self-reported midlife gait pace and all-cause and cardiovascular disease mortality (Br J Sports Med 2018; 52: 761-768).
'Compared with 200 years ago, we do move less in our daily life, but also we move at a slower pace,' Professor Stamatakis said. 'We do not do enough physical activity that challenges our physiology and as a result, the majority of us are unfit.'
Professor Stamatakis said gait speed was a potentially modifiable lifestyle factor and encouraging patients to simply 'pick up the pace' when walking could yield health benefits.
He said adopting a faster walking pace was simple, affordable and achievable for most Australians.
A walking pace of about 130 steps per minute had been shown to be the 'sweet spot' of vigorous activity for young to middle-aged adults, he said. 'This sweet spot may be lower for older adults,' he added.
JAMA Network Open 2019; 2: e1913123.
JAMA Network Open 2019; 2: e1913112.