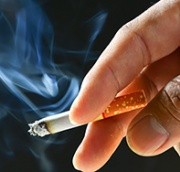 © DAN KHAMPIRANON/SHUTTERSTOCK
Smoking just one cigarette a day significantly increases CHD, stroke risk
By Bianca Nogrady
The decades-old anti-tobacco slogan 'Every cigarette is doing you damage' has been further reinforced by the finding that a single cigarette a day does half the damage of 20 cigarettes a day.
A systematic review and meta-analysis of 141 prospective cohort studies, involving almost 14 million participants, showed that men who smoked one cigarette a day had 53% of the excess relative risk of coronary heart disease of men who smoked 20 cigarettes a day, while the corresponding figure for women was 38% of the excess relative risk.
According to the findings published in the BMJ, the excess relative risk for stroke among men who smoked one cigarette a day was 64% of the excess risk of those who smoked 20 a day. In women that figure was 36%.
In all cases, these figures were derived after adjusting for confounding factors such as age and cholesterol and blood pressure levels.
The authors said the results contrasted with lung cancer and smoking frequency, where there was more of a linear relation between cigarette consumption and excess risk. The results also challenged the perception that low-dose smoking is 'relatively safe'.
'Harmful effects at low doses are further supported by studies of second-hand smoke that show adverse actions on subclinical vascular disease and thickening of carotid artery walls.'
The author of an accompanying editorial described the results as 'compelling'.
'Only complete cessation is protective and should be emphasised by all prevention measures and policies,' the editorialist wrote.
Commenting on the study to Medicine Today, national tobacco spokesperson for the National Heart Foundation Mr Maurice Swanson said smokers often did not understand that social smoking or low-dose smoking did not actually reduce their cardiovascular risk significantly.
'That's what enables us to say to people that it's only when you quit completely that you get the major benefits,' said Mr Swanson, who is also President of the Australian Council on Smoking and Health.
Mr Swanson stressed that the impact of smoking on cardiovascular risk was much swifter than on cancer risk, particularly for people with existing cardiovascular disease.
BMJ 2018; 360: j5855.
BMJ 2018; 360: k167.