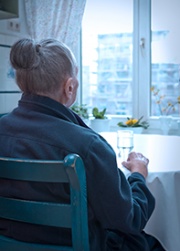 © AGENTURFOTOGRAFIN/ STOCK.ADOBE.COM. MODEL USED FOR ILLUSTRATIVE PURPOSES OLY
Social isolation, loneliness and cardiovascular risk
By Nicole MacKee 
Loneliness is associated with an up to a 30% increased risk of being diagnosed with cardiovascular disease, UK researchers have reported in the journal Heart.
The researchers also found that study participants who reported the highest levels of loneliness were 48% more likely than the least lonely participants to be hospitalised for a cardiovascular event.
The study followed around 6000 people (aged 50 years or over) for almost 10 years. The researchers measured loneliness with a validated, three­-question tool. Participants were asked: How often do you feel a lack of companionship? How often do you feel isolated from others? How often do you feel left out?
Professor David Hare, Senior Cardiologist and Director of Heart Failure Services at Austin Health in Melbourne, said social isolation had been known to be a major independent risk factor for cardiovascular events since the early 1980s.
This latest study, Professor Hare said, explored how much of this additional risk could be attributed to social isolation, and how much could be attri­buted to feelings of loneliness.
'Loneliness is associated with social isolation,' he said. 'But not all people who are socially isolated feel lonely.'
After controlling for mechanisms potentially underlying the association such as physical activity, alcohol abuse, smoking, obesity, depression and high blood pressure, the researchers found that the association between loneliness and incident cardiovascular events remained significant. The association between social isolation and cardiovascular events, however, did not remain significant.
Professor Hare said the UK study built upon the findings of the 2004 INTERHEART study that found psychosocial factors to be the third most important predictor of myocardial infarction, behind only apolipoprotein B/A1 ratio and smoking.
He said this growing evidence reinforced the importance of screening for depression and loneliness among patients at risk of cardiovascular events.
'The best way to [identify psychosocial risk factors] is to have a routine system for screening before the patient sees the doctor,' Professor Hare said, noting that patients at the Heart Failure Service were asked to fill in a short questionnaire while in the waiting room that covered depression and sleep disturbance.