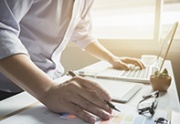 © ASAWINKLABMA/STOCK.ADOBE.COM
Standing is better than sitting for weight loss, but no substitute for walking
By Nicole MacKee
Substituting standing for sitting can help individuals to burn extra energy and, over the long term, may lead to weight loss, according to new research.
A systematic review and meta-analysis published in the European Journal of Preventive Cardiology found a mean difference in energy expenditure between standing and sitting of 0.15 kcal/min (95% confidence interval [CI], 0.12-0.17). The effect was more pronounced in men (with a mean difference in energy expenditure of 0.19 kcal/min; 95% CI, 0.05-0.33) than women (0.1 kcal/min; 95% CI, 0.0-0.21).
The researchers estimated that a 65 kg person who swapped sitting for standing for six hours a day – assuming no increase in energy intake – would lose 2.5 kg of body fat mass in a year.
The researchers reviewed 46 studies (including 10 randomised trials) with 1184 participants in their final analysis.
However, an Australian expert said individuals would also need to get moving if they wanted to lose weight and obtain the full health benefits of reducing sedentary behaviour.
Dr Josephine Chau, researcher at the Prevention Research Collaboration in the Sydney School of Public Health and Charles Perkins Centre, said although it was useful for researchers to know the difference in energy expenditure between the two postures, the practical applications of these findings were limited. 'It is unlikely an adult will lose weight based on standing only,' Dr Chau told Medicine Today.
'I think focusing on other health benefits of interrupting sitting time, like better uptake of sugars and fats in the blood stream after a meal or opportunity to vary posture at work for musculoskeletal health, would be more informative than simply comparing its energy expenditure with standing,'
She pointed to research that had shown that breaking up sitting with light-intensity walking had metabolic benefits for overweight adults but not for healthy weight adults.
'In other words, going for a short stroll will have other health benefits and expend more energy than standing.'
Dr Chau said individuals seeking to increase their energy expenditure could be advised to participate in varying intensities of physical activity.
'Assuming it is safe for a patient to do so, it would be worthwhile suggesting patients engage in lightintensity activity such as walking, cycling (could be stationary bike) or yoga,' Dr Chau said.
'If the patient is fit and mobile, moderate-to-vigorous intensity activities would increase energy expenditure the most; these are activities that increase the heart rate and make you breathe harder. Ultimately, the clinician would know what is within the patient's limits and make suggestions appropriate to their condition.'
Eur J Prevent Cardiol 2018; doi: 10.1177/2047487317752186.