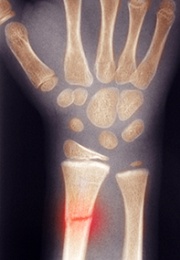 © SCIENCE SOURCE/SCOTT CAMAZINE/DIOMEDIA.COM
Strategies to reduce the risk of refracture in children
By Nicole MacKee
Children who sustain a fracture may benefit from strategies to improve bone health, say Canadian researchers who have found that these children are at significant risk of refracture.
In a retrospective cohort-based study, published in Pediatrics, the researchers found that children who experienced a fracture were at 60% increased risk of a second fracture in the subsequent seven years, compared with children who had not sustained a fracture.
The study included about 2.5 million healthy children aged up to 15 years, among whom 43,154 children sustained a fracture in the baseline year. The researchers controlled for sex, rurality and history of previous fracture. They also controlled for the occurrence of soft tissue and head injuries, which, they said, provided an indirect adjustment for children who might be more likely to sustain all types of injury.
The researchers said that strategies to improve bone health after fractures, including calcium supplementation, increased dairy and protein intake, vitamin D supplementation and increased weight- bearing physical activity, might help to cut the risk of refracture.
Associate Professor Peter Cundy, recent Head of the Department of Orthopaedic Surgery at Adelaide's Women's and Children's Hospital, said bone health might play a minor role in the refracture rate, but behavioural characteristics were more likely to be driving the increased risk.
'We know there are children who are good risk takers, who may have better co-ordination and better balance than other children. Then, there are children who are very vigorous in their activity, and those who frequently crash into things,' Associate Professor Cundy said, noting that it was challenging to measure such behavioural factors in population-based research.
He said another contributing factor may be the growing rates of overweight and obesity among children.
'If you are heavier, you fall with greater momentum, so I think there are probably more factors than just bone health at play.'
Associate Professor Cundy said it was rare in Australia for children to present with fractures and have bone metabolic disturbances caused by poor diet or low vitamin D levels alone.
Increased supervised physical activity was likely to be the most effective measure in addressing the refracture rates in children, he said, partly because children would maintain skills in balance, fitness and muscle strength, which would all help to minimise the risk of injury.
Pediatr 2019; 144(2): e20172552.