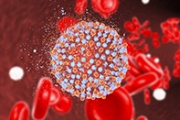 © KATERYNA KON/SHUTTERSTOCK
Study confirms benefits of antivirals for chronic hepatitis C virus infection
By Jane Lewis
Treatment of chronic hepatitis C virus (HCV) infection with direct­-acting antivirals (DAA) is associated with significantly reduced risk for mortality and hepatocellular carcinoma, reports a large prospective cohort study in The Lancet.
The study's results 'provide the best evidence to date to support guidance documents that recommend direct­-acting antiviral treatment for all patients with chronic HCV infection', wrote the authors of an accompanying comment.
Commenting on the findings, Associate Professor Simone Strasser, Liver Specialist at the Royal Prince Alfred Hospital in Sydney, and Vice-President of the Gastroenterological Society of Australia (GESA), said Australia is in a unique position to achieve major health benefits in people living with hepatitis C.
'Highly effective DAA treatments are available on the PBS to all patients, with newer regimens of sofosbuvir­-velpatasvir and glecaprevir­-pibrentasvir curing close to 100% of those treated', she told Medicine Today. 'Many GPs are now prescribing HCV treatments, and for those who haven't yet felt comfortable doing so, GESA provides information and support.' (See www.gesa.org.au/resources/hepatitis­-c-­treatment/.)
The Lancet study analysed data from 9895 adult patients with chronic HCV (7344 treated with DAA and 2551 untreated) enrolled from 32 hepatology centres in France, with a median follow up of 33 months. In treated patients, all-cause mortality was halved (hazard ratio [HR], 0.48) and rates of hepatocellular carcinoma were significantly reduced (HR, 0.66) after adjust­ment for multiple factors including age, severity of liver disease and comorbidities. Similar associations were found in the subgroup of patients with cirrhosis who achieved a sustained virological response. Patients who did not achieve a sustained virological response had a higher risk of hepatocellular carcinoma (HR, 2.23).
There were no signs of increased hepatocellular carcinoma risk during DAA treatment, the authors reported.
Associate Professor Strasser said there was still a significant number of people in the Australian community with undiag­nosed or untreated hepatitis C.
'It is essential that all patients at risk for hepatitis are diagnosed [with an anti-HCV screening test and a confirmatory HCV RNA test] and treated. It is also essential all patients are assessed for fibrosis severity before treatment,' she said.
'Those who may have cirrhosis should be treated as a priority, but require a pretreatment ultrasound to exclude liver cancer, as well as long-term surveillance with six­-monthly ultrasound and serum [alpha-fetoprotein]. Ideally, these patients should be referred to a specialist,' she advised.
Lancet 2019; http://dx.doi.org/10.1016/S0140-6736(18)32111-1.
Lancet 2019; http://dx.doi.org/10.1016/S0140-6736(18)32326-2.