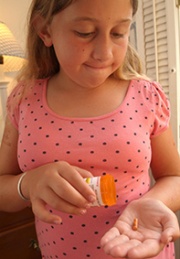 © MICHAEL VENTURA/ALAMY/ DIOMEDIA. MODEL USED FOR ILLUSTRATIVE PURPOSES ONLY.
Study finds inconsistent use of ADHD medication by Australian children
By Melanie Hinze
Australian children take their ADHD medication inconsistently, with prescriptions filled just 60% of the time they are on treatment, according to new research led by the Murdoch Children's Research Institute and published in the Archives of Disease in Childhood.
Medication adherence, which was determined by the filling of prescriptions, was relatively high in the first year, then progressively decreased to suboptimal levels, only increasing again after five or six years of treatment.
The study also found that low socioeconomic status was a risk factor for not taking ADHD medication consistently.
The researchers analysed dispensing data for all redeemed prescriptions of methylphenidate, dexamphetamine and atomoxetine between May 2002 and March 2015 for 3537 children from the Longitudinal Study of Australian Children.
They found 166 (3.6%) children had ever redeemed a prescription for an ADHD medication, with boys almost four times more likely to have taken ADHD medication than girls. The mean age at first use was 9.7 years. The mean medication coverage, defined as the proportion of time between first and last redeemed prescription in which the child was taking medication, was 59.8%.
Study author, Associate Professor Daryl Efron, consultant paediatrician at the Royal Children's Hospital and Senior Research Fellow at the Murdoch Children's Research Institute, Melbourne, said this research showed that for many families, staying on the treatment plan was not easy.
'In our study children from lower [socioeconomic] families were less likely to take their medication consistently,' he said. 'While our design didn't allow us to explore the reasons why, we know from other work that barriers to equitable medical care for Australian children include things like availability of specialists, out­of­pocket costs in the private sector (where many children with ADHD are seen) and transport to appointments.'
Professor Efron added that GPs could have an important role in improving these statistics. 'GPs can help by monitoring children's progress, reminding families to stick with the treatment plan and arranging early review with the child's paediatrician if treatment isn't going to plan,' he said. 'If GPs are comfortable prescribing ADHD medications, that could also make it much easier for families, particularly socially disadvantaged families,' he added.
Arch Dis Child 2020; doi: 10.1136/archdischild-2019-317997.