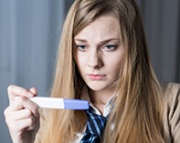 Teenage pregnancy prevention program has reverse effect
By Nicole MacKee
Baby simulator programs designed to prevent teenage pregnancy may be associated with more, not less, pregnancies, Australian researchers have found.
In a randomised controlled trial, published in The Lancet, researchers in Western Australian evaluated the impact of the Virtual Infant Parenting (VIP) program on the likelihood of a girl giving birth or experiencing an induced abortion before the age of 20 years.
The six­-day program, which targets girls aged 13 to 15 years, combined education (four educational sessions in small groups, a comprehensive reference workbook and a video documentary of teenage mothers talking about their own experiences) with a weekend of caring for a doll programmed to mimic a baby's sleeping and feeding patterns.
The researchers randomly assigned 28 schools to deliver the VIP program to 1267 girls, while 29 control schools delivered standard school curriculum health education to 1567 girls.
The researchers found that a higher proportion of girls who had participated in the VIP program recorded at least one pregnancy (17%), compared with girls receiving standard education (11%). After adjusting for potential confounders, the researchers found that the overall risk of pregnancy was higher in the intervention group than the control group (relative risk, 1.36).
Professor Rachel Skinner, Professor of Paediatrics and Child Health at The University of Sydney, said teenage pregnancy was a complex social issue and there was no 'simple fix'.
'An intervention that is based around some education and looking after a baby doll ... for the weekend is unlikely to address all of the underlying factors,' Professor Skinner told Medicine Today.
She said the experience of looking after a baby may resonate with some teenage girls.
'The kids at risk of having a teenage birth are often quite vulnerable. They come from a lower socioeconomic environment where they may have experienced some form of hardship. They are often not good at school, and their longer term prospects may be limited,' she said. 'Experiencing what it might be like to have a baby might have affected them in a positive way, rather than in a negative way.'
Professor Skinner said the teenage birth rate in Australia had been steadily declining for the past 15 years and was currently about 13 per 1000 across Australia, which was not concerning. But there were pockets in Australia, particularly among Indigenous and disadvantaged communities, where the rate was up to seven times higher, she said.
Professor Skinner also pointed to a decade­-long multifactorial program in the UK that had halved the teenage pregnancy rate in some regions by addressing social, health and educational factors (Lancet 2016; 388: 586-­595). She said a targeted initiative along these lines could be employed in areas in Australia with higher teenage pregnancy rates. But, she added, evaluation of any strategy was crucial. 'Some­ times these well­-intentioned strategies have a perverse effect.'
Lancet 2016; doi: 10.1016/S0140-6736(16)30384-1.
Picture credit: © KatarzynaBialasiewicz/iStockphoto. Model used for illustrative purposes only.