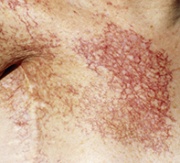 Toxicity from breast cancer treatments may be greater than clinicians acknowledge
By Jane Lewis
Nearly one-half of women treated for early-stage invasive breast cancer experience side effects they perceive as severe or very severe, including women who do not receive chemotherapy, according to new research published in the journal Cancer. 
'The toxicity burden faced by patients may be greater than acknowledged by clinicians, and warrants routine assessment during and between clinic visits,' the study's authors concluded. 
Professor Bogda Koczwara AM, medical oncologist at the Flinders Centre for Innovation in Cancer in Adelaide, told Medicine Today that a strength of the study was that it focused on what women with breast cancer feel, rather than 'what clinicians think they might feel.' 
'We will deliver much better cancer care if we pay more attention to the management of side effects,' she commented. 'As well as impacting on quality of life, treatment-related toxicities also impact on cost, health service use and perceptions of health.' 
In the study, a population-based sample of women with early-stage invasive breast cancer living in Los Angeles County and Georgia, USA, were surveyed an average of seven months after diagnosis to investigate their experience of seven common treatment-related side effects: nausea/ vomiting, diarrhoea, pain, constipation, arm oedema, dyspnoea and breast skin irritation. 
Of 1945 respondents, 1810 (93%) reported experiencing at least one toxicity, and 866 (45%) reported at least one toxicity that was severe or very severe. Among the seven toxicities, pain was most frequently reported as severe or very severe (23%), followed by constipation (14%) and breast skin irritation (13%). A total of 9% of women reported unscheduled clinic visits for toxicity management and 5% visited an emergency department or hospital. 
Factors associated with higher toxicity severity included receiving chemotherapy (odds ratio [OR], 2.2) and receiving both chemotherapy and radiotherapy (OR, 1.3). Women with a bilateral mastectomy were also more likely to report severe or very severe toxicity, although this result was not statistically significant. 
'These novel data solicited directly from patients highlight opportunities to improve supportive care through targeted toxicity management and data-informed patient-provider communication,' the authors concluded. 
Commenting on the management of side effects, Professor Koczwara said GPs have an important role, since many patients experiencing side effects present 'first and foremost' to their GP. 
'While this study focuses on acute toxicity, I suspect similar issues occur in the longer-term, and there are a number of general health issues involved where the expertise of GPs would be very worthwhile,' she added. 
Cancer 2017; doi: 10.1002/cncr.30547.
Picture credit: © BSIP, Dr Zara/SPL. Radiodermatitis in a patient with breast cancer following radiotherapy after mastectomy.