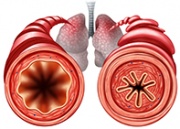 © FRESHIDEA/STOCK.ADOBE.COM
Treatable traits identified in patients with severe asthma
By Nicole MacKee
Targeting treatable traits associated with severe asthma may help clinicians to better tailor management to indivi­duals, says a leading respiratory expert.
Professor Christine Jenkins, Head of the Respiratory Group at the George Institute for Global Health, Sydney, was coauthor of research that identified 24 treatable traits, including allergic sensitisation, airflow limitation, eosinophilic inflammation and frequent exacer­bations, that were more com­mon in people with severe disease than in those with mild disease. 
Increased risk of exacerbations was found to be linked with 10 traits, including depression, having multiple inhaler devices, vocal cord dysfunction (VCD) and obstructive sleep apnoea.
The research, published in Respirology, compared the ­­pre­­­va­lence of treatable traits in 434 people with severe asthma, enrolled through the Australasian Severe Asthma Web-Based Database (SAWD), with those in 102 people with nonsevere asthma. 
Talking to Medicine Today, Professor Jenkins said the treatable traits approach was being explored in managing a range of airways diseases from mild asthma to chronic obstructive pulmonary disease.
'The treatable traits approach veers the clinician away from a traditional, one-size-fits all approach, where we would target FEV1, night-time symptoms or productive cough,' she said. '[The approach acknowledges] that there may be several other factors feeding into the way the airways disease affects the patient and encourages the clinician to think outside the square in terms of what might make a difference.' 
For instance, she noted the finding that VCD was reported by 6.7% of people with severe asthma, compared with 1% of people with nonsevere asthma. This important finding may enable clini­cians to be more nuanced in managing severe asthma, she said. 
'You might imagine that when a patient with severe asthma becomes breathless, it is most likely due to their lower airways disease.' But, she said, knowing that VCD was more common in patients with severe than nonsevere asthma, may prompt clinicians to look for VCD. 
'If I find that VCD is present, I am not going to treat that with more and more inhaled medication, so the patient is spared excessive doses of medication that were not going to treat the VCD.'
Professor Jenkins said there had been 'lively discussions' in the profession about this new treatment approach, with many experts continuing to advocate traditional approaches. Randomised controlled trials evaluating the impact of this approach on patient outcomes were needed, but findings from smaller studies had been promising, she added.
Respirology 2018; doi: 10.1111/resp.13389.