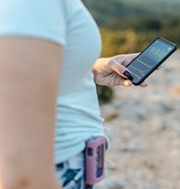 © AZMANJAKA/ISTOCKPHOTO.COM
Type 1 diabetes and continuous glucose monitoring: guidance on exercising safely
By Nicole MacKee
Australian experts have welcomed new guidelines for the use of continuous glucose monitoring (CGM) for exercise in type 1 diabetes but warn that the detailed guidance will need to be simplified to ensure patients are not overwhelmed with information.
The position statement on glucose management for exer­cise using CGM and intermit­tently scanned CGM, issued by the European Association for the Study of Diabetes and the International Society for Pedia­tric and Adolescent Diabetes (ISPAD), provides guidance across a range of areas including carbohydrate consumption and safe glucose thresholds.
Writing in Diabetologia, the authors noted that the statement was designed as an initial guidance tool, which could then be tailored individually.
In Australia, CGM is fully subsidised for people aged under 21 years with type 1 diabetes, or a condition similar to type 1 diabetes and who need insulin; for people aged 21 years or over with type 1 diabetes who have valid concessional status; and for women with type 1 diabetes who are pregnant or planning pregnancy.
Dr Vinutha Shetty, Paediatric Diabetologist and Clinical Senior Lecturer at the University of Western Australia in Perth, said CGM technology – which was now used by almost 85% of children and adolescents with type 1 diabetes – had helped to reduce the fear of hypoglycaemia during exercise, but barriers to its use remained.
'There are other barriers that we have to overcome ... including the knowledge of our patients as well as that of health­ care professionals,' she said.
Dr Shetty, who is also a researcher at the Telethon Kids Institute Children's Diabetes Centre, Perth, said the latest statement provided more specific advice than the 2018 ISPAD Guidelines.
'The statement has divided people into categories in terms of exercise levels – from those who don't exercise at all to those who are already exercising – as well as their risk of hypoglycaemia,' she said.
Dr Shetty said such detailed guidance was helpful but complicated. 'The challenge for healthcare professionals is to take all this information and simplify the advice for their patients,' Dr Shetty said. 'Already our patients are overburdened by all the carbohydrate counting and using technology, and I think we should be careful not to further overwhelm them.'
Professor Tim Jones, Co­-Head of the Diabetes and Research Team at the Telethon Kids Institute, said the introduction of CGM had been a game changer in the management of type 1 diabetes. 'Children don't have to prick their fingers as much, just twice a day, and with the new systems coming out, they won't have to prick [their fingers] at all,' he said. 'It's improved safety and how people feel overnight, when [they are at risk of nocturnal hypoglycaemia].'
Professor Jones agreed that work was needed to improve the accessibility of this informa­tion, but the overall message was a positive one.
'We have the technology and we have more knowledge now; all we have to do is to put this into practice in a way that people can do it.'
Diabetologia 2020; 63: 2501-2520.