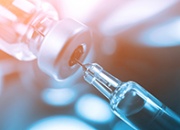 © NUMSTOCKER/SHUTTERSTOCK
Vaccination reminders and recalls – are they worthwhile?
By Jane Lewis
The use of patient reminder and recall systems in primary care settings is likely to be effective at improving immunisation rates, an updated Cochrane review has concluded.
'Studies have long shown that reminders improve vaccination rates,' commented Associate Professor Julie Leask from the Faculty of Nursing and Midwifery at The University of Sydney and Visiting Fellow at the National Centre for Immunisation Research & Surveillance. 'The current study updated the evidence and added trials of text messages, which were also found to work.'
The review included 75 studies from 10 countries (mostly from the USA) that evaluated patient reminder or recall interventions in a range of settings.
The studies were mainly of reminders for routine immunisations in children and for influenza vaccination, with the remainder focusing on immunisations in adults and adolescents.
Based on moderate-certainty evidence and compared with no reminders, with media-based immunisation promotions, or with simple practice-based awareness campaigns, the review concluded that patient-reminder or recall interventions 'probably improve the proportion of participants who receive immunisation' (risk ratio [RR], 1.28; risk difference of 8%). High-quality evidence was found that three types of single-method reminders were effective for delivering immunisation reminders: postcards (RR, 1.18), text messages (RR, 1.29) and computerised telephone calls (autodialer; RR, 1.17). Based on moderate-certainty evidence, phone calls (RR, 1.75) and letters to patients (RR, 1.29) probably improved receipt of immunisations, the review authors concluded.
'Reminders act as a nudge,' Associate Professor Leask told Medicine Today. 'If a practice wants to boost its vaccination rates, setting up a reminder system is worth considering. This is particularly the case for children approaching a routine immunisation milestone,' she said.
'A good example is in New South Wales, where Aboriginal health workers in the Hunter New England region led the way with their 'Precall not recall' initiative. They closed the gap between Aboriginal and non-Aboriginal vaccination rates in children with SMS reminders sent to parents by local Aboriginal health workers before a vaccine was due.'
Associate Professor Leask said that if it was not possible to implement a reminder system, checking the person's records using the Australian Immunisation Register and recommending vaccination to the patient or parent was also effective.
Cochrane Database Syst Rev 2018; (1) : CD003941.