Dermatology Quiz
Scarring alopecia with tufted folliculitis
Date Posted:
10/06/2011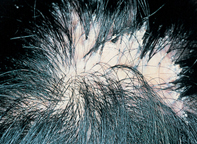 Figure 1. An irregular area of scarring alopecia on the vertex of the scalp.
A 34-year-old woman presents with an 18-month history of progressive hair loss, associated with tenderness, on her scalp. Tufted follicles and scarring alopecia were the key to diagnosis.
Skin necrosis with vascular calcification
Date Posted:
03/06/2011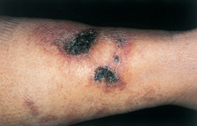 Figure 1. Irregular areas of skin necrosis with dark eschar over the lower leg.
A 59-year-old woman with chronic renal failure presents with a recent history of multiple progressive, painful ulcers over the lower limbs.
Itchy papules on the trunk and limbs
Date Posted:
27/05/2011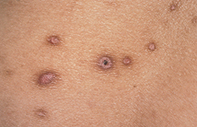 Figure 1. Multiple pale pink papules at different stages. Note the hyperpigmented areolae, increased skin markings (lichenification), and focal dark crust.
A 47-year-old woman developed persistent itchy papules on the trunk and limbs over a two-year period.
Pages