A decade of growth at Medicine Today
This month
Medicine Today
(formerly
Modern Medicine of Australia
) turns 60 years old. In September 2007, we celebrated its 50th anniversary by featuring, as in this issue, reflecti
ons from the current Editor-in-Chief and Emeritus Chairman of the Board of Honorary Consultants, Professor Peter Castaldi, and the current Chairman, Professor Kim Oates, as well as reviewing a collection of extracts of articles published in the first issue and the 25th birthday issue of
Modern Medicine of Australia
. Ten years on from that milestone we thought it fitting to examine how the
Medicine Today
group has evolved and expanded to embrace changing technology and provide its readers with an increasing and diverse range of authoritative, practical and focused clinical content.
Entry into the digital age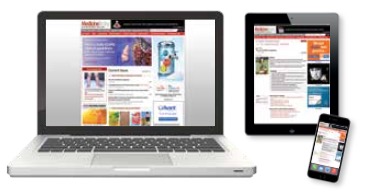 Our entry into the digital age was an enormous undertaking, starting in 2007 with the launch of the online version of our RACGP-accredited continuing professional development (CPD) program. This widely used site was then integrated into our fully fledged Medicine Today website, launched in 2010.
At launch our website provided readers with the current issue's content, several years of archived articles, supplements, patient handouts, clinical flowcharts, collections of regular series and topics, a weekly dermatology quiz and our CPD program.
Today, the full text of all articles published in Medicine Today and its sister journals is fully archived back to the year 2000 or to each journal's launch date. And since February this year, articles have been accessible in both html and pdf formats.
Subscribers to Medicine Today now have online access to more than 2500 articles, 300 clinical flowcharts, 30 supplements, patient handouts and an extensive library of dermatology quizzes.
Over the years several upgrades have been made to the website to improve and enhance our readers' experience. Our most recent upgrade has ensured that the website provides a fully interactive mobile-responsive platform that can be easily navigated and read on all electronic devices.