Expansion of the Medicine Today group of journals
Launch of four sister journals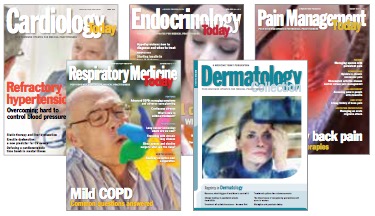 With the aim of providing GPs with more in-depth content on specific therapeutic areas to support and enrich their daily practice, we launched an expansion program in 2011, seeing the Medicine Today base grow over the next five years from one clinical journal to five, available in both print and online.
Like Medicine Today, its sister journals are all independent and rigorously peer reviewed, providing clinically focused, practical, evidence-based articles designed to meet the needs of busy doctors, and written by highly experienced senior clinicians.
Cardiology Today. Launched in April 2011, Cardiology Today is published three to four times yearly with content steered by Editor-in-Chief Professor David Brieger, Head of Coronary Care and Coronary Interventions at Concord Hospital, and Professor of Cardiology at The University of Sydney.
Endocrinology Today. Medicine Today's second sister publication, Endocrinology Today, was launched in April 2012 under the helm of Editor-in-Chief Professor Stephen Twigg, Professor of Medicine at The University of Sydney's Sydney Medical School and Head of the Royal Prince Alfred Hospital's Department of Endocrinology.
Pain Management Today. January 2014 saw the launch of Medicine Today's third sister journal, the biannual Pain Management Today. Its Editor-in-Chief is Professor Roger Goucke, Consultant in the Department of Pain Management at Sir Charles Gairdner Hospital, and Clinical Associate Professor at the University of Western Australia, Perth.
Respiratory Medicine Today. Medicine Today's newest clinical journal, Respiratory Medicine Today, was launched in October 2016. Published biannually, it is overseen by Co-Editors-in-Chief Professor Christine McDonald, Director of the Department of Respiratory and Sleep Medicine at Austin Health, and Professor of Respiratory Medicine at The University of Melbourne, and Professor Peter Frith, Professor in Respiratory Medicine at Flinders University School of Medicine, and Adjunct Professor at University of South Australia Health Sciences Faculty, Adelaide.
Other publications
In addition to expanding our base of clinical journals, over the past decade we have continued to provide readers with carefully selected collections of updated peer-reviewed articles on specific areas of medicine. During this time we have published more than 20 supplements on topics as diverse as asthma, diabetes, prescription opioid misuse, contraception, androgen deficiency and stroke, and in May 2016 we launched our biannual Dermatology Collection. This publication provides updated dermatology articles selected by its Editor-in-Chief, Professor Gayle Fischer, Associate Professor of Dermatology at Sydney Medical School – Northern, University of Sydney, Royal North Shore Hospital, Sydney.