The 2019 MPA Annual Readership Survey has delivered another strong result for Medicine Today, with an increase in the average issue readership (AIR) score taking it to 68.3%. The journal now sits even closer in AIR to the weekly newspaper, Australian Doctor, which has dropped for the second year running, down to 69.5%.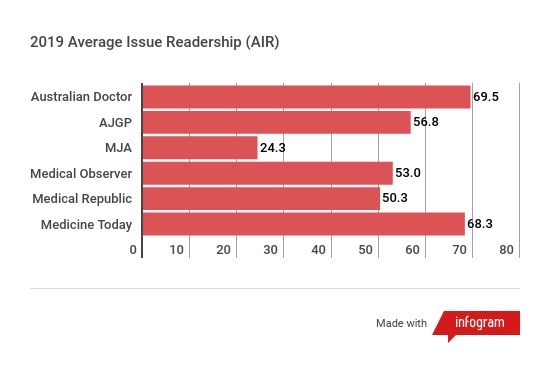 The RACGP journal, AJGP, which underwent a major rebrand in 2018 and a consequent drop in readership, failed to regain much share of mind from the GPs surveyed, returning an AIR score of 56.8%.  



Medical Observer, which announced its last printed issue in September 2019, returned an AIR score of 53% – a sharp decline from its 61% score in the 2018 survey. MJA also suffered a decline in the latest results, falling from an unusually strong 32% result in 2018 to settle back to a more typical 24.3% in 2019. 



Medicine Today has performed consistently for the fourth year in a row, with the journal either holding its score or slightly increasing it over a time frame that has seen other publications decline in readership. 



What about busy doctors and pharma reps?

Countering any argument that doctors are too time poor to consume media, it is the busiest GPs (defined by the survey as those who see more than 31 patients per day and write 41 or more scripts per day) who report the highest average issue readership of Medicine Today.



The survey revealed that print media in general remain a top-of-mind source of information for GPs, with 94.4% of GPs nationwide reading the medium, representing a slight increase from 2018. This is in contrast to diminishing exposure to field forces, as measured in terms of reported visits by representatives, which has declined by 33% since 2011.



And digital...

There was no significant change in the digital reach of the surveyed publications' websites, with 61% of GPs accessing at least one of the six sites. In further results, 66% of GPs were shown to be reading at least one of the various titles' e-newsletters in the past 24 hours to within the last month.



Medicine Today is a medium that continues to achieve outstanding results for advertisers. Clinical journals in print remain one of GPs' most favoured information sources. Among the top information sources that accept marketing messages, Medicine Today is a flagship channel for advertisers and thus a cornerstone of successful marketing campaigns. 



Supporting the print foundation, our focus has expanded into exploring how we can further connect with our audiences in digital formats. Talk to our team today about our 'Read. Watch. Listen. Learn.' approach to delivering information, and how this can assist your brand messaging.
Prue Anderson
Group Sales & Marketing Manager
P: +61 410 317 059
E: [email protected]
Sarah Wylie
Business Development Manager
P: +61 412 511 421
E: [email protected]