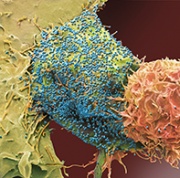 © steve gschmeissner/spl. HIV-infected cells (SEM)
'Unprecedented' drop in HIV infections with PrEP rollout in NSW
By Bianca Nogrady
The rollout of pre-exposure prophylaxis for HIV (PrEP) in New South Wales has been associated with a significant decline in HIV infections, according to new data.
A study published in Lancet HIV examined the outcomes from the rapid, targeted and high-coverage rollout of PrEP (a combination of tenofovir disoproxil fumarate and emtricitabine) in both a high-risk cohort of 3700 individuals prescribed PrEP and across the state of NSW.
In the high-risk cohort who were prescribed PrEP, only two participants became infected with HIV in the 12 months after recruitment, and both had been nonadherent to the medication. There were an additional three new HIV diagnoses after the end of the study period, again in individuals who were nonadherent to PrEP at the time of infection.
Across NSW, HIV diagnoses in men who have sex with men (MSM) declined from 295 at one year before the PrEP rollout to 221 at one year after the rollout, representing a 25.1% relative risk reduction. Recent HIV infections declined by 31.5% and other HIV diagnoses declined by 18.5%.
However, there were significant differences in HIV infection rates according to location and country of birth. Reductions in recent HIV infections were far greater among Australian-born people than Asian-born people. Reductions were also highest among people living in the inner  Sydney suburbs with much larger gay populations and in other parts of NSW, compared with those living in other Sydney suburbs.
The study's lead author Professor Andrew Grulich, from the Kirby Institute at UNSW Sydney, said such a rapid reduction in recent HIV infections was internationally unprecedented. However, he said the study highlighted some challenges yet to be overcome. 'While infections in Australian-born MSM went down more than 50%, when we looked at Asian-born MSM or [those] from non-English speaking backgrounds, it showed we still have quite a lot of work to do with migrant communities,' Professor Grulich told Medicine Today.
He also highlighted the problem of people becoming infected when they stopped taking PrEP. 'It's really important for anybody coming off PrEP, and for any doctor talking to a patient coming off PrEP, that the patient remembers they're no longer protected.'
Lancet HIV 2018; http://dx.doi.org/10.1016/S2352-3018(18)30215-7.