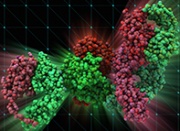 Adalimumab effective for juvenile arthritis-associated uveitis, study finds
By Jane Lewis
A multicentre trial published in The New England Journal of Medicine has concluded that adalimumab in combination with methotrexate is an effective therapy in children and adolescents with juvenile idiopathic arthritis (JIA) who develop associated uveitis.
Speaking to Medicine Today, Dr Jeffrey Chaitow, Head of Paediatric Rheumatology at Sydney Children's Hospital Network (Westmead and Randwick), said uveitis was very important in juvenile arthritis.
'All children with juvenile arthritis need to be seen by an ophthalmologist to assess for uveitis at the time of onset, and regularly thereafter,' he advised, adding that the condition is often asymptomatic. 
The randomised, placebo controlled trial (the SYCAMORE trial) conducted in the UK included 90 children and adolescents, aged 2 years or older, who had active uveitis and were taking a stable dose of methotrexate. Patients were randomly assigned in a 2:1 ratio to receive either adalimumab (20 mg or 40 mg, according to body weight) or placebo, and continued the trial regimen until 8 months had passed, or until treatment failure (defined according to a multicomponent intraocular inflammation score).
The trial was stopped early after a strong beneficial effect was demonstrated in the adalimumab group, in whom the treatment failure rate was 27%, compared with 60% in the placebo group.
Significantly more patients in the adalimumab group had a reduction in their topical glucocorticoid dose (hazard ratio [HR], 3.72) and discontinued topical glucocorticoids (HR, 3.58), compared with the placebo group.
Patients who received adalimumab experienced a higher rate of adverse events than those in the placebo group (10.07 vs 6.51 per patient-year, respectively), as well as a higher rate of serious adverse events (0.29 vs 0.19 per patient-year, respectively). Adverse events included minor infections, respiratory disorders and gastrointestinal disorders.
'Adalimumab is a very important breakthrough in treating children with uveitis that has failed to respond to standard therapy,' commented Dr Chaitow. Although the current study found a higher rate of adverse events in children receiving adalimumab, 'the rate was not that high, and the events were not that serious,' he said. 'The benefit of treatment far outweighs the risk of adverse reactions.'
Currently, adalimumab is approved for use in uveitis in adults, not children, and it is not PBS listed for this indication.
'Unfortunately, this makes it very expensive to use,' he said, adding that he was hopeful the situation may change in the future.
The author of an accompanying editorial said the trial 'provides valuable efficacy and safety data for the use of adalimumab,' but cautioned its results are 'most likely not generalizable,' since the patients included probably had more severe disease than is typical.
N Engl J Med 2017; 376: 1637-1646.
N Engl J Med 2017; 376: 1682-1683.
Picture credit: © Laguna Design/SPL. Molecular model of adalimumab.