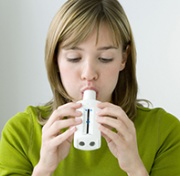 Adult-onset asthma: spontaneous remissions and misdiagnoses examined
By Nicole MacKee
One in three adults recently diagnosed with asthma have been found in Canadian research not to have active asthma, but an Australian expert has urged caution in translating the findings locally.
Professor Jo Douglass, Head of the Department of Clinical Immunology and Allergy at the Royal Melbourne Hospital, said Australia had a high asthma mortality rate, which needed to be considered in any attempt to reverse an asthma diagnosis.
'Asthma mortality is a real problem in Australia, probably more than it is in Canada, and inhaled preventer treatments are one of the few [measures] that have been shown to provide protection from asthma death,' Professor Douglass told Medicine Today.
Professor Douglass' comments followed the publication in the Journal of the American Medical Association of the findings of a prospective cohort study of 613 participants in which current asthma was ruled out in 203 people (33.1%).
Random digit telephone dialling was used to recruit adults who had been diagnosed with asthma within the preceding five years. Spirometry followed by a methacholine inhalation challenge was used to confirm or query an asthma diagnosis. Participants found not to have active asthma had their asthma medications gradually withdrawn over four study visits. After an additional 12 months of follow up, 181 patients (29.5%) remained free of a clinical or laboratory diagnosis of asthma.
The researchers said spontaneous remission of previously active asthma, as well as some misdiagnosis of asthma, were likely to account for the findings. They also reported that patients found to not have active asthma were less likely to have undergone spirometry at the initial diagnosis than those with a confirmed diagnosis (43.8% vs 55.6%, respectively).
Professor Douglass said wider use of spirometry in general practice would be useful in confirming asthma diagnoses and, in any cases in which the diagnosis was doubtful, withdrawal of preventer medication should be done in a stepwise fashion in line with Australian Asthma Handbook guidelines.
'To withdraw asthma preventers without a clear understanding of the diagnosis of asthma would be premature,' said Professor Douglass, adding that in Australia there was a problem with the undertreatment of asthma, as well as possibly an issue with overtreatment.
Professor Douglass noted that more than 300 potential participants in the JAMA study chose not to enter the trial, perhaps because they had more severe disease.
'Maybe they were a group who were resistant to stopping asthma treatment, so that may have skewed the responder group in this study,' she said.
The researchers found that 12 participants (2%) had other serious cardiorespiratory problems that had not previously been diagnosed. Professor Douglass said spirometry could also be valuable in avoiding such misdiagnoses. 
'If patients have a restrictive defect or lung function abnormality that is not consistent with their symptoms, it should prompt further investigation,' she said. 
JAMA 2017; 317: 269-279. Doi: 10.1001/jama.2016.19627. 
Picture credit: © Image Pointer/Depositphotos. Model used for illustrative purposes only.