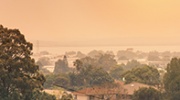 © DARIA NIPOT/ISTOCKPHOTO.COM
Air pollution as well as family factors may increase asthma and wheeze in children
By Melanie Hinze
A Danish nationwide study has found evidence that new asthma onset and persistent wheeze in children are influenced by expo­sure to ambient fine particles smaller than 2.5 micrometres (PM2.5), in addition to heredity, socioeconomic status and maternal smoking during pregnancy.
The national registry­-based, matched case­-control study, published in The BMJ, included 3,192,785 Danish children born between 1997 and 2014 who were followed up for asthma onset and persistent wheeze for one to 15 years.
During follow up, 122,842 cases of asthma were identified, mostly in children younger than 3 years of age (83%).
Exposure to particulate matter PM2.5 or smaller was linked with an increased risk of asthma and persistent wheezing (hazard ratio [HR], 1.05 per 5 micrometres/m3). Asthma incidence was also higher in children who had parents with asthma (HR, 2.29) and in those whose mothers smoked during pregnancy (HR, 1.20). Asthma incidence was lower in those whose parents had high educational attainment (HR, 0.72) and high incomes (HR, 0.85).
The study authors also suggested there may be different susceptibilities among different age groups of children.
Dr Nusrat Homaira, Senior Lecturer and NHMRC Research Fellow in the Discipline of Paediatrics at UNSW Sydney and respiratory researcher at Sydney Children's Hospital, agreed with the paper's findings, saying, 'Multiple studies have linked increasing levels of air pollution (PM2.5) to higher prevalence of asthma, recurrent wheeze and acute respiratory infections in children'.
'As such, it is very important that children with asthma have regular follow­-up visits with their GP, receive asthma education and live in a healthy environment.'
Dr Homaira also said that exposure to environmental triggers such as tobacco smoke should be reduced in children with asthma and it was recom­mended that children with asthma received the seasonal influenza vaccine.
'On follow-­up visits GPs can ensure that children have a written asthma action plan, understand the importance of compliance to medications, are trained on the correct asthma inhaler technique and know how to use their spacer device,' she added.
The study authors concluded that further reductions in PM2.5 may reduce the number of children with asthma and persistent wheezing in highly exposed populations.
BMJ 2020; 370: m2791; http:// dx.doi.org/10.1136/bmj.m2791.