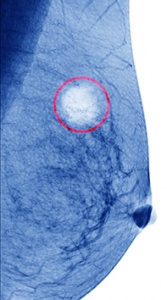 Anastrozole versus tamoxifen: side effect profile the decider
By Bianca Nogrady 
The choice between anastrozole or tamoxifen for the prevention of breast cancer recurrence can be personalised according to their side effect profiles, experts say.
A five-year international double-blind randomised controlled trial compared once-daily anastrozole (1 mg) with once-daily tamoxifen (20 mg) for the prevention of breast cancer in 2938 women who had previously had a hormone receptor-positive ductal carcinoma in situ (DCIS) locally excised.
The study, the International Breast Cancer Intervention Study-II DCIS (IBIS-II DCIS), found no statistically significant difference between the two drugs in terms of breast cancer recurrence rates, with both showing an overall recurrence rate of 5% and DCIS recurrence rate of 2%.
Women who experienced an oestrogen-receptor positive recurrence were more likely to be taking tamoxifen, while those with oestrogen-receptor negative recurrence were more likely to be taking anastrozole, although the difference in this latter group was not significant, according to the study findings published online in The Lancet.
Tamoxifen was associated with a 10-fold greater incidence of endometrial cancer, significantly greater incidence of ovarian cancer, and a nearly twofold greater incidence of nonmelanoma skin cancer compared with anastrozole. Anastrozole showed a 14% greater incidence of arthralgia (affecting 832 patients in the anastrozole group and 729 patients in the tamoxifen group), more than twofold increase in the incidence of joint stiffness and threefold increase in carpal tunnel syndrome compared with tamoxifen.
Tamoxifen was also associated with a greater risk of deep vein thrombosis without pulmonary embolism, compared with anastrozole. 
Lead author Professor John Forbes said the study provided information to help doctors personalise the treatment choice to the patient's risk profile.
'If there was a clear history or any increased risk for any known reason of endometrial or ovarian gynaecological cancers, you would want to avoid tamoxifen and would certainly have a trial of anastrozole,' said Professor Forbes, Director of Research for the Australia and New Zealand Breast Cancer Trials Group at the University of Newcastle.
With respect to the musculoskeletal impact of each drug, Professor Forbes told Medicine Today this was a significant issue because the frequency of these side effects was much greater than other side effects.
'The arthralgia, for example, showed a significant difference; there were 832 patients who had some symptoms of arthralgia with anastrozole, versus 729 with tamoxifen, so I would consider starting a patient on tamoxifen if they have a history of arthralgia or carpal tunnel syndrome,' he said.
Lancet 2015, doi: http://dx.doi. org/10.1016/S0140-6736(15)01129-0.
Picture credit: © Thailoei92/Shutterstock.