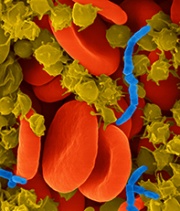 © DENNIS KUNKEL MICROSCOPY/SPL
Antibiotic prescribing: identifying patients most at risk of sepsis
By Nicole MacKee
Older adults, those with frailty or those who have had a urinary tract infection (UTI) are most at risk of sepsis and would benefit from antibiotics, according to UK researchers, who say antibiotic use may be safely reduced in other groups.
In a cohort study of patients from more than 700 UK general practices, published in PLoS Medicine, researchers identified more than 35,000 episodes of sepsis. They found that the probability of sepsis was lower if an antibiotic was prescribed, but the number of antibiotic prescriptions required to prevent one episode of sepsis (number needed to treat, NNT) decreased with advancing age.
Among preschool­-aged children, the NNT was found to be around 30,000 for boys and 27,000 for girls. But in adults aged over 85 years, the NNT was 262 in men and 385 in women.
For severely frail patients aged 55 to 64 years, the NNT was 247 in men and 343 in women.
The researchers reported that at all ages, the probability of sepsis was greatest for UTI, followed by skin infection then respiratory tract infection (RTI).
For patients aged 65 to 74 years, the researchers found that after a UTI, the NNT was 121 for men and 284 in women.
'Inappropriate and unnecessary antibiotic prescribing is a widespread problem in primary care that may be contributing to antibiotic resistance,' the researchers wrote. 'These stratified estimates of risk help to identify groups in which antibiotic prescribing may be more safely reduced.'
Professor Karin Thursky, Director of the NHMRC National Centre for Antimicrobial Stewardship, said the study reinforced the importance of appropriate antibiotic prescribing in primary care.
'This study shows that the probability of sepsis is very low indeed in younger patients and especially with RTIs, and, not surprisingly, higher in the elderly, frail and with urinary infections,' Professor Thursky said.
While the prescription of antibiotics was more likely to be appropriate for UTIs, she said more education was needed.
'The caveat is that there is a huge amount of overprescribing for asymptomatic bacteriuria or based on dipsticks,' Professor Thursky said. 'Understanding the appropriate diagnostic pathway for UTIs, and the early warning signs of sepsis is where education is needed.'
PLoS Med 2020; 17: e1003202; https://doi.org/10.1371/journal.pmed.1003202.