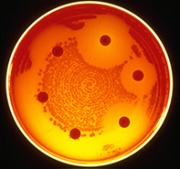 Antibiotic resistance 'high' in children treated for UTIs
By Jane Lewis
Resistance to antibiotics commonly prescribed for children with urinary tract infections (UTIs) caused by Escherichia coli is high, and could make some antibiotics ineffective as first-line treatments for UTIs, according to a systematic review and meta-analysis published in the BMJ.
'Routine use of antibiotics in primary care contributes to antimicrobial resistance in children,' stated the study's authors from the UK, who urged clinicians to avoid the unnecessary use of antibiotics, particularly broad-spectrum antibiotics.
'This is an important and timely paper for primary care, and general practice in particular,' Professor Grant Russell, Head of Primary Health Care at Monash University, Melbourne, and author of an editorial published with the study, told Medicine Today. 'It highlights how the increasing rate of antibiotic resistance is now having an impact on what would previously be considered routine treatment for paediatric UTIs.'
The meta-analysis, which included 58 observational studies, found the pooled prevalence of resistance in OECD countries to be 53.4% for ampicillin, 23.6% for trimethoprim, 8.2% for amoxycillin-clavulanic acid (co-amoxiclav), 2.1% for ciprofloxacin and 1.3% for nitrofurantoin. In non-OECD countries, resistance was significantly higher: 79.8% for ampicillin, 60.3% for amoxycillin-clavulanic acid, 26.8% for ciprofloxacin and 17.0% for nitrofurantoin. Over-the-counter availability of antibiotics may be a possible explanation for these higher rates, the study authors suggested.
The study also found evidence that bacteria from the urinary tract of individual children who had previously been prescribed antibiotics in primary care were much more likely to be resistant to antibiotics, and that this increased risk could persist for up to six months (odds ratio, 13.23).
'These findings are highly disturbing,' commented Professor Russell. 'GPs need be mindful of local patterns of resistance when prescribing empirically for E. coli UTIs, and drugs should not be used as first-line antibiotics if more than 20% of isolates are resistant.' They also need to be far more mindful of a patient's recent antibiotic history when seeking to prescribe, and very careful in the choice of antibiotics in patients who have been in developing countries for long periods of time, he advised.
In his BMJ editorial, Professor Russell said the current study joins a host of recent calls to action on this issue, each adding more evidence 'to justify change in how we protect a precious global resource.'
'While I have no doubt that clinical practice guidelines will quickly be able to accommodate the findings, I am less confident that there is the will and commitment to deal with what the WHO has called "the post-antibiotic era'',' he wrote.
BMJ 2016; doi: 10.1136/bmj.i939.
BMJ 2016; doi: 10.1136/bmj.i1399.
Picture credit: © Phototake/Bart's Medical Library/Diomedia.com