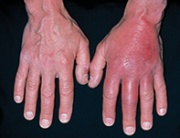 Antibiotic treatments for cellulitis compared
By Nicole MacKee
The frequent use of an antibiotic regimen targeting methicillin-resistant Staphylococcus aureus (MRSA) in uncomplicated cellulitis in the USA has been questioned by experts, after researchers found that adding trimethoprim–sulfamethoxazole to cefalexin was unlikely to improve cure rates.
In a double-blind randomised trial, published in JAMA, researchers analysed the effect of adding an MRSA-active antimicrobial (trimethoprim-sulfamethoxazole) to an antimicrobial that lacked MRSA activity (cefalexin) in patients who presented to emergency departments with nonpurulent cellulitis without abscess.
Among 411 patients in the per protocol analysis, 83.5% of patients in the cefalexin plus trimethoprim–sulfamethoxazole group experienced clinical cure after seven days' treatment, and 85.5% of patients in the cefalexin plus placebo group recovered.
In a modified intention-to-treat analysis of 496 patients – including all patients who took one or more dose of study medication, as well as those who withdrew from the trial or were lost to follow-up – clinical cure occurred in 76.2% of the cefalexin plus trimethoprim–sulfamethoxazole group, and in 69% of the cefalexin plus placebo group.
Although the researchers said more research was needed to confirm these imprecise results, the authors of an accompanying editorial said the study suggested that the addition of a second antibiotic 'just in case' of MRSA may not be necessary in treating uncomplicated cellulitis.
Associate Professor Tom Gottlieb, Head of Infectious Diseases at Concord Hospital in Sydney, said the antibiotic regimen described in the article was not used in Australia, largely due to the much lower rate of community-acquired MRSA here, but the study was a timely reminder of the importance of appropriate antibiotic use in skin infections.
'It reinforces the stewardship point of using the right antibiotic at the right time, and only when infection is actually present,' said Professor Gottlieb, who is also Clinical Senior Lecturer at the University of Sydney.
'Doctors should look at the patient's clinical signs. If it's a localised, rounded [infection], particularly if there is local discharge, that's usually staphylococcal; whereas, if there is diffuse redness spreading from distal to proximal, with the onset of chills and rigours, that's usually cellulitis – especially if there is some lymphangitis present.'
Professor Gottlieb said Australia's Therapeutic Guidelines recommended that uncomplicated cellulitis be treated with flucloxacillin, which provided coverage for both streptococcal and staphylococcal infections.
'Currently, you don't need to add a second antibiotic for MRSA for cellulitis,' he said, adding that MRSA was not a primary concern in cellulitis. 'Use of treatment for MRSA would be guided by clinical history in suspected staphylococcal infections, or as directed therapy when that organism is grown from pus.'
Professor Gottlieb said a larger issue in Australia was the inappropriate use of antibiotics for noninfective skin conditions, such as gout or vascular eczema or in leg ulcers where there was no clear infection.
He said antibiotic treatment for cellulitis could be discontinued once the clinical signs of infection had resolved, as clinical changes in the skin often remain present for some weeks after the infection had cleared.
JAMA 2017; 317: 2088-2096.
JAMA 2017; 317: 2070-2071.
Picture credit: © Dr P. Marazzi/SPL