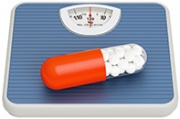 © ALEXLMX/STOCK.ADOBE.COM
Antidepressant use may be linked to weight gain
By Nicole MacKee
Widespread antidepressant use may be contributing to a growing population-level risk of overweight and obesity, researchers have reported in the BMJ.
In a 10-year UK cohort study of almost 300,000 people – 18% of whom were prescribed one of 12 commonly prescribed antidepressants – the use of antidepressants was found to be linked with a sustained risk of weight gain over at least five years.
The researchers found the absolute risk of gaining 5% or more in bodyweight was 8.1 per 100 person years in those not prescribed antidepressants, and 11.2 per 100 person years in participants taking these medications. This suggests that one additional episode of weight gain would be expected for every 59 people treated, assuming the relationship was causal, the researchers reported.
The risk peaked in the second and third year of treatment. During the second year, one additional episode of weight gain would be expected for every 27 people treated.
Although the researchers said the temporal association between the initiation of treatment and weight gain suggested a causal link, they could not exclude the possibility that depressive symptoms, rather than the treatment, were respon- sible for the weight gains found.
In an accompanying editorial, Professor Alessandro Serretti and Dr Stefano Porcelli of Italy's University of Bologna, said the level of risk might seem modest, but the effect at a population level could be 'substantial'.
'Clinicians should discuss the possibility of weight gain with patients who need antidepressants, provide concomitant lifestyle advice on diet and exercise to minimise risk and monitor patients' weight and metabolic variables for the duration of treatment. Increasing physical activity may also improve symptoms of depression,' they wrote.
The editorialists said antidepressant therapy was known to be effective and remained the 'cornerstone' of treatment for those with moderate or severe depression. Ideally, they wrote, anti- depressant therapy should be prescribed alongside a high-intensity psychological intervention for these patients. For people with mild depression, low-intensity psychosocial interventions and CBT might be preferable.
BMJ 2018; 361: k1951.
BMJ 2018; 361: k2151.