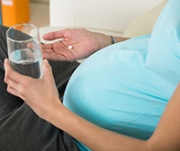 Antidepressant use in pregnancy and autism link examined
By Bianca Nogrady
Researchers have attempted to untangle the relationship between maternal depression, antidepressant use during pregnancy and autism spectrum disorders in offspring.
Two population-based retrospective cohort studies published in JAMA found no association between maternal antidepressant use and the incidence of autism spectrum disorders in the offspring.
A Swedish study in 1.58 million offspring – of whom 22,544 were exposed to antidepressants during the first trimester – found that any association between antidepressant exposure and autism spectrum disorder disappeared after adjusting for pregnancy, maternal and paternal traits and comparing to siblings. They did find a 34% increase in the risk of preterm birth associated with first-trimester antidepressant exposure.
A Canadian study in 35,906 singleton births – 2837 of which involved antidepressant exposure – also found the association between exposure and autism spectrum disorders was not significant, particularly after comparing exposed and unexposed siblings.
However, a systematic review and meta-analysis published in JAMA Pediatrics found a significant association between increased autism spectrum disorder risk and maternal use of antidepressants, but this association was more consistent during the preconception period than during each trimester.
The authors of an editorial accompanying the JAMA studies noted that the two retrospective cohort studies are a reminder that the children of mothers with depression remain at increased risk for development disturbances, regardless of antidepressant treatment.
'Identifying how maternal mood and related genetic and environmental factors shape developmental risk is needed, moving away from a focus on antidepressant medications alone and toward whether some mothers and their children might actually benefit from prenatal maternal antidepressant treatment,' the editorialists wrote.
Commenting on the findings, Professor Jayashri Kulkarni, Director of the Monash Alfred Psychiatry Research Centre in Melbourne, said the question of the relationship between maternal antidepressant use and autism in the offspring had been debated backwards and forwards for a long time, without a clear resolution.
'The problem that we have with something like autism spectrum disorders is we don't really have clear aetiology for it,' Professor Kulkarni told Medicine Today. 'We also don't have possibility of ruling out psychosocial factors that impact on the child's development.'
Professor Kulkarni said a prospective study with a long-term follow up was really needed to provide a clearer answer, but until such a study was performed, clinicians could only fall back on the first principles of minimising drug use during pregnancy unless absolutely necessary.
'If you have a depressed mother in pregnancy, that has its own consequences, particularly heading into postnatal depression so taking her off [all medications] is not good,' Professor Kulkarni said. 'But then again if an antidepressant is being used [when there is not] a clear-cut major depressive disorder then that's not good either.'
JAMA 2017; 317: 1533-1534.
JAMA 2017; 317: 1544-1552.
JAMA 2017; 317: 1553-1562.
JAMA Pediatr 2017; doi: 10.1001/jamapediatrics.2017.0124.
Picture credit: © Andrey Popov/stock.adobe.com