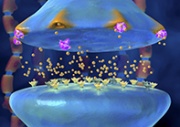 © ANIMATED HEALTHCARE LTD/SPL. Action of SSRIs at the synapse.
Antidepressants may relieve anxiety symptoms first in primary care patients
By Melanie Hinze
In primary care populations, antidepressants may relieve anxiety symptoms before depression symptoms, according to research published in The Lancet Psychiatry.
The PANDA study was a pragmatic, multicentre, double-blind, non-industry funded, placebo-controlled randomised trial of 655 patients from 179 primary care surgeries in the UK. Patients were randomised to the SSRI sertraline (50 mg/day for one week then 100 mg/day for up to 11 weeks) or placebo.
This trial differed from most in that included patients had depressive symptoms of any severity or duration in the past two years, in addition to there being clinical uncertainty about the benefit of an antidepressant. This was intended to improve the generalisability of the patient sample to reflect current use of antidepressants in primary care.
The study showed that sertraline was unlikely to reduce depressive symptoms within six weeks in primary care, but that it improved anxiety and lead to better mental (but not physical) health-related quality of life and self-rated mental health. Secondary analysis found weak evidence that sertraline reduced depressive symptoms at 12 weeks compared with placebo, which the authors said could be clinically meaningful.
Professor Phillip Mitchell, Director of the Mood Disorders Service at Northside Group St Leonards Clinic and Scientia Professor in the School of Psychiatry at the UNSW Sydney, said the take home message was that in the general practice population, antidepressants were doing more than just being antidepressants; there was also an anxiety-reducing effect.
'What I like about this study is that the sample was very representative of the form of depression seen in general practice,' he told Medicine Today. 'It is a milder form of depression than is seen in psychiatric practice and a milder form than gets into the antidepressant trials.'
He noted that in general practice there was a tendency not to see as much pure depression.
Professor Mitchell added that he was not concerned about the lack of effect at six weeks due to the nature of the sample studied, which was not a pure major depression sample.
Overall, he said the trial showed there was a value of antidepressant therapy to patients with less severe depression where it is mixed with anxiety.
Lancet Psych 2019; https://doi.org/10.1016/S2215-0366(19)30366-9.