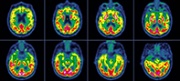 © CENTRE JEAN PERRIN, ISM/SPL
Apathy may predict dementia onset in at-risk individuals
By Melanie Hinze
Apathy predicts the onset of frontotemporal dementia (FTD) in presymptomatic, at-risk individuals, according to an international study published in Alzheimer's & Dementia.
The study participants were 304 presymptomatic carriers of gene mutations accounting for around one-fifth of all cases of FTD – microtubule associated protein tau (MAPT), progranulin (GRN) and chromosome 9 open reading frame 72 (C9orf72) – and 296 relatives without these gene mutations. Participants underwent clinical assessment and MRI at baseline and annually for two years. Latent growth-curve modelling was used to analyse longitudinal changes in apathy, cognition and grey-matter volumes and their associations.
The study authors found that in presymptomatic carriers of these gene mutations, apathy occurred early, its severity increased over time and it predicted cognitive decline over the study period. Although baseline apathy predicted cognitive decline, the reverse did not occur. Baseline low grey-matter volume in frontal and cingulate regions also predicted apathy progression.
The authors concluded that apathy was an early marker of cognitive decline and brain changes in presymptomatic FTD. They suggested that it may be a modifiable risk factor for FTD and as such could represent a new target for symptomatic treatment and interventions aimed at slowing or delaying clinical decline in at-risk individuals.
Professor Amy Brodtmann, Co-head of Dementia Research at the Florey Institute of Neuroscience and Mental Health, Melbourne, explained that the authors presented data from the Genetic FTD Initiative (GENFI), which has an overarching aim to identify early predictors for those who are transitioning from presymptomatic (genetic carriers only, with no evidence of disease) to symptomatic carriers with a diagnosis of FTD.
'The authors' conclusions correlate with our understanding that behavioural symptoms like apathy are much more sensitive to the presence of FTD than cognitive change, and that they also represent a measurable biomarker,' said Professor Brodtmann, who is also a stroke and cognitive neurologist at the Royal Melbourne Hospital, Austin Health and Eastern Health.
'There are now Phase 3 studies in Australia for people with genetic mutations causing FTD, and this means that therapies are on the horizon to offer when people start to develop symptoms,' she added.
Alzheimer's Dement 2020; doi: 10.1002/alz.12252.