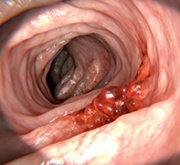 Aspirin reduces colorectal cancer risk, as may some dietary factors
By Melanie Hinze
A qualitative analysis and umbrella review recently confirmed that decreased colorectal cancer (CRC) incidence is associated with aspirin, NSAIDs, magnesium, folate and other dietary factors.
The study, published in Gut, summarised evidence from 80 meta-analyses of interventional and observational studies that were published between September 1980 and June 2019.
All included data were from meta-analyses that performed a complete systematic search of the literature coupled with a pooled analysis, with included participants who were at average risk of CRC.
Dairy products, fibre, soy or fruits and vegetables were associated with reduced CRC incidence, whereas meat and alcohol consumption were associated with increased CRC incidence.
Professor Jon Emery, Herman Professor of Primary Care Cancer Research at the University of Melbourne, and the Victorian Comprehensive Cancer Centre Primary Care Research and Education Lead, said that the message for GPs was that aspirin and dietary factors affect CRC risk. 
Professor Emery, who is also Director of the Cancer Australia Primary Care Collaborative Cancer Clinical Trials Group (PC4), said, 'the Cancer Council Australia and NHRMC guidelines recommend people aged 50 to 70 years, who are at average risk of bowel cancer, consider taking daily low-dose aspirin to reduce their bowel cancer risk'.
The current study showed that aspirin may lower the CRC risk by between 14% to 29% at doses as low as 75mg/day, with a dose response effect reported up to 325mg/day.
Professor Emery said that the evidence was strongest for aspirin as it was based on meta-analyses of several randomised controlled trials, while dietary factors in this study were based on observational studies which were more prone to bias.
'While the study found that diets rich in fruit and vegetables, fibre, dairy products and folate may reduce risk of bowel cancer, the evidence is weaker than that for aspirin,' he said.
'Importantly, this paper also highlights the lack of evidence for multivitamin supplements in reducing bowel cancer risk', he told Medicine Today.
'The recommendations about dietary changes, especially about fruit and vegetable intake, are of course consistent with reducing risk of several other serious conditions,' he added.
Gut 2020; 0: 1­12; doi: 10.1136/gut-jnl­-2020­320990.