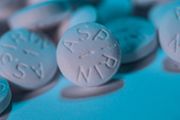 © BLUESKIES9/STOCK.ADOBE.COM
Aspirin use in patients on DOACs: ensure there is a clear indication
By Nicole MacKee
One in three patients on direct oral anticoagulant (DOAC) therapy are also taking aspirin, without clinical indication, putting them at increased risk of bleeding events, US researchers have reported in JAMA Internal Medicine.
In a cohort study of 3280 patients on DOAC therapy for atrial fibrillation or venous thromboembolic disease, the researchers found that 1107 patients (33.8%) were also taking aspirin without a clear indication.
Patients included in the trial had not had a recent myocardial infarction or history of heart valve replacement. They were followed up for around 20 months.
Two matched cohorts – each with 1047 patients – were evaluated. One group was taking a DOAC plus aspirin, whereas the other group was taking a DOAC only.
The researchers found that patients on both a DOAC and aspirin were at increased risk of bleeding events compared with those on DOACs alone (31.6 bleeds vs 26.0 bleeds per 100 patient years, respectively). This increased risk was mostly driven by nonmajor bleeds, which were signifi­cantly more likely in the combination therapy group than in the monotherapy group (26.1 bleeds vs 21.7 bleeds per 100 patient years, respectively). Major bleed events, however, were similar between the two groups.
Patients taking both a DOAC and aspirin were more likely to be hospitalised than those on a DOAC alone. Thrombotic events occurred at similar rates in the two groups.
Professor Ross Baker, Haematologist and Founding Chair of the Perth Blood Institute, said the findings reflected the yet ­to­ be published results of the recent Anticoagulation Reversal and Events Study in Australia and New Zealand (www.pbi.org.au/ares­collaborative).
'We found something similar,' Professor Baker said. 'About a third [of our participants] were also on aspirin or NSAIDs.'
He said these studies raised an important practice point.
'Before staring a DOAC, the prescriber should review NSAID and aspirin use, because there are a lot of people on aspirin without a good reason.'
Professor Baker noted that many patients bought aspirin over the counter, or knew the drug by its various brand names, and this could result in its use being missed in a medication review.
One contentious area, he said, was in patients with coronary disease with stents who were taking aspirin.
'With coronary stents, antiplatelet agents are the cornerstone of treatment to reduce the risk of cardio­ vascular events. But if you develop atrial fibrillation on top of that, there is uncertainty about whether to keep the aspirin going or to use just an antithrombotic agent with a DOAC,' Professor Baker said. 'We know there is increased risk of bleeding, but we don't want the coronary stent to block or coronary events to occur.'
Professor Baker said more research was needed to guide practice in these circumstances.
JAMA Intern Med 2021; doi:10.1001/jamainternmed.2021.1197I.