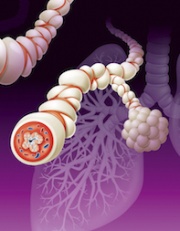 © Pascal Marseaud, ISM/SPL
Asthma: self-guided breathing exercises can improve quality of life
By Jane Lewis
Some people with asthma can derive significant benefit from breathing retraining delivered via a self-guided digital audiovisual program, suggests research published in Lancet Respiratory Medicine. 
'The low cost of providing an internet-based intervention, the ease of access of content and the absence of adverse outcomes using such approaches indicate that this evidence-based nonpharmacological intervention can now be offered to people with asthma with persisting quality-of-life impairment,' the research team concluded. 
Commenting on the findings, respiratory physician Professor Helen Reddel, a research leader at the Woolcock Institute of Medical Research in Sydney, and Chair of the Science Committee of the Global Initiative for Asthma, said breathing exercises could provide useful assistance for people with asthma, and were recommended by asthma guidelines as a supplement to pharmacological treatment. 
'This research provides additional evidence of the benefits of breathing exercises,' she told Medicine Today. 
In the study, 655 patients (aged 16 to 70 years) from 34 general practices in the UK were randomly assigned to three groups: those who received the self-guided intervention (DVD plus printed booklet, the DVDB group); those who received three face-to-face breathing retraining sessions with a respiratory physiotherapist (the face-to-face group); and those who received standard care. 
Compared with the standard care group, Asthma Quality of Life Questionnaire (AQLQ) scores at 12 months were significantly higher in the DVDB group (adjusted mean difference 0.28) and in the face-to-face group (0.24), although these group differences were smaller than 0.5, the minimum difference regarded as being clinically important for individual patients. AQLQ scores were very similar between the DVDB group and the face-to-face group (adjusted mean difference 0.04). No adverse effects of either intervention were found. 
The authors reported observing no significant changes in airway obstruction (assessed by forced exhaled volume in one second) or inflammation (exhaled nitric oxide), suggesting that breathing retraining 'provides a technique for coping better with the consequences and ongoing effects of having asthma,' and is complementary to, rather than a replacement for, preventer inhalers. 
Professor Reddel noted that research from the Woolcock Institute from 10 years ago also demonstrated that patients with asthma could obtain significant benefit from breathing exercises. 'Breathing exercises can help in a number of ways, including by encouraging people to change their breathing pattern, and get a better sense of control over their symptoms,' she advised. 'The exercises can also substantially reduce the overuse of reliever medications, and this in turn helps patients feel better, because they experience fewer side effects.'
The authors of a comment accompanying the study said it 'provides strong evidence that breathing retraining delivered remotely via a DVD and booklet can be an effective intervention,' noting that further research was needed to explore the generalisability of the findings.
Lancet Respir Med 2017; http://dx.doi.org/10.1016/S2213-2600(17)30474-5.
Lancet Respir Med 2017; http://dx.doi.org/10.1016/S2213-2600(17)30471-X.
Picture credit: © Pascal Marseaud, ISM/SPL