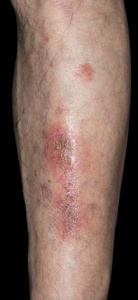 © DR HAROUT TANIELIAN/SPL
Atopic dermatitis associated with undiagnosed anxiety and depression
By Melanie Hinze
People with atopic dermatitis have dramatically increased rates of anxiety and depression, which is linked with disease severity and often goes undiagnosed, according to research published in the British Journal of Dermatology.
Clinical Associate Professor Saxon Smith, from The University of Sydney and dermatologist at the Dermatology and Skin Cancer Centre, agreed, saying atopic dermatitis had broad reaching biopsychosocial health impacts, and was also very common in Australia with up to 20% of children and 5% of adults affected.
'Atopic dermatitis waxes and wanes in its severity and the very nature of the ups and downs places a lot of emotional and psychological stress on those who have the condition,' he told Medicine Today.
'This recent article clearly documents this impact. Importantly, it also highlights that often the impacts are underappreciated by both the patient and their treating team. It is important to factor this into the holistic management of these patients,' he added.
The cross-sectional, population-based study assessed 2893 adults from the Growth from Knowledge (GfK) KnowledgePanel – a probability-based web panel representing the US population.
It found that atopic dermatitis was associated with increased symptoms of anxiety and depression and higher proportions of borderline and/ or abnormal anxiety and depression scores. Moderate and severe disease was also linked with markedly worse mental health.
Additionally, 40% of patients with atopic dermatitis self-reported having an official diagnosis of anxiety or depression in the past year, compared with 17.5% of people without the condition. However, a substantial proportion of patients with atopic dermatitis plus borderline or abnormal anxiety or depression scores reported no official diagnosis.
'We recommend that clinicians incorporate assessment of mental health symptoms in clinical practice to determine disease burden and screen for patients with symptoms of anxiety and depression,' the study authors concluded.
Br J Dermatol 2019; doi: 10.1111/bjd.17683.