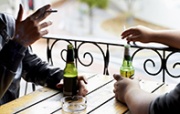 Australia lags behind on preventive health
By Bianca Nogrady
Australia is in the top 10 countries in meeting health-related Sustainable Development Goals but is still struggling with chronic and noncommunicable diseases a report published in the Lancet has found.
The Sustainable Development Goals were established by the UN General Assembly in 2015 to replace the previous Millennium Development Goals. In the first of many analyses, researchers looked at nations' scorecards for 33 health-related Sustainable Development Goal indicators, such as universal health coverage, alcohol use, noncommunicable diseases, maternal and neonatal mortality, HIV, air pollution and sanitation.
This analysis showed Australia ranked 10th of 188 countries for its performance on these indicators; ahead of countries such as Norway, Germany and the USA but behind the UK, Sweden and Iceland.
Although Australia ranked better than many in healthcare coverage, the lowest scores were in the areas of suicide, alcohol use, overweight and smoking. 
Professor Cassandra Szoeke, from the Institute for Health and Ageing at the Australian Catholic University in Melbourne, who was involved with the study, said although the 10 lowest scoring countries faced challenges with child deaths, maternal deaths and communicable disease, those countries with the 10 highest scores were grappling more with chronic, noncommunicable disease, particularly obesity.
'Noncommunicable diseases are the rising challenge of this century for countries with high socioeconomic status,' said Professor Szoeke, who is also Director of the Healthy Ageing Program at the University of Melbourne. 'If you look at the top chronic diseases, what people are suffering with are dementia, heart disease, depression and the musculoskeletal disorders such as osteoarthritis, while the leading causes of death are vascular disease of the heart and brain, and dementia and we now know these are also connected.'
Professor Szoeke said the main thing that distinguished the top five countries from the rest of the top 10 countries was preventive health.
'The top scorers like Iceland have huge budgets where they have specifically allocated money to chronic disease prevention and preventive health, while Australia invests less than 2% of our health budget in prevention,' Professor Szoeke told Medicine Today.
Lancet 2016; 388: 1813-1850.
Picture credit: © Yuri Arcurs/iStockphoto