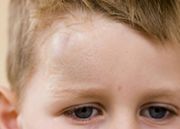 © BSIP/DIOMEDIA.COM MODEL USED FOR ILLUSTRATIVE PURPOSES ONLY
Australian and New Zealand guidelines released for head injury in children
By Dr Emily Lathlean MB BS, FRACGP
The first binational guidelines for the assessment and management of mild to moderate head injury in children have been developed by Australian and New Zealand clinicians. The guidelines, published in Emergency Medicine Australasia, were created by a multidisciplinary working group, led by the Paediatric Research in Emergency Departments International Collaborative (PREDICT), who identified 33 clinical questions in the key areas of triage, imaging and discharge. Existing high-quality guidelines and systematic review of more recent evidence informed their recommendations.
Dr Malcolm Higgins, Head of the Paediatric Emergency Department at Adelaide's Women's and Children's Hospital, welcomed the guidelines.
'Head injury in children is a common presentation to emergency departments ... and general practice,' he said. 'Although most are relatively minor, requiring only close observation, some are more significant and require important decisions to be made about admission to hospital, radiological investigations, referral and follow-up care. These guidelines will help inform clinicians regarding all of these decision points.'
Until now, hospitals have created their own guidelines for paediatric head injury. 'These have differed in the information provided and it is always problematic and time consuming to keep these up to date,' Dr Higgins explained. The new guidelines are 'more comprehensive than most local guides and will ensure consistency of care.'
Particularly useful, Dr Higgins noted, is an 'easy to follow' risk-based algorithm.
New recommendations relating to triage include a list of features for which children should be assessed in the hospital setting.
Decision-making for whether imaging is indicated is streamlined, with recommendations based on Glasgow Coma Scale score, timing of presentation, other risk factors for clinically-important traumatic brain injury, as well as the number, severity and persistence of signs and symptoms, and family factors, such as distance from hospital.
'Limiting exposure of children to ionising radiation is always an important consideration,' Dr Higgins said. The guidelines provide 'clear advice on the role of CT scan and skull x-ray.'
The guidelines also discuss consideration of abusive head trauma and the significance of comorbidities, such as ventricular shunts, bleeding disorders and use of anticoagulant or antiplatelet medications.
Recommendations for discharge and follow up include criteria for when children can be safely discharged home, information to be given to caregivers, timing for follow up, and identification and follow up of postconcussive symptoms.
The guidelines have sparked calls for more national guidelines to be developed for other common paediatric presentations.
'This is an efficient use of health resources, promoting consistency across the country and reducing variation in care,' Dr Higgins said.
Emerg Med Australas 2021; doi: 10.1111/1742-6723.13722.