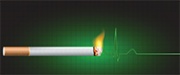 © PLANGTAWAN/SHUTTERSTOCK
Australian research highlights impact of smoking on most CVD subtypes
By Melanie Hinze
New Australian research clearly shows how damaging tobacco smoking is to the cardiovascular system and supports quitting as a means of reducing cardiovascular disease (CVD) risk.
The study, published in BMC Medicine, showed that current smoking increased the risk of virtually all subtypes of CVD when compared with people who have never smoked. It at least doubled the risk of developing acute myocardial infarction, cerebrovascular disease and heart failure and put people at five times the risk of developing peripheral arterial disease, when compared with those who have never smoked.
Mortality among current smokers was almost tripled compared with never smokers, and more than one­-third of all CVD deaths before age 65 years in Australia could be attributed to smoking.
The study also showed, for the first time, that current smoking significantly increased the risk of incident paroxysmal tachycardia hospitalisation or death, including for supra­ ventricular tachycardia and ventricular tachycardia, when compared with people who had never smoked.
The prospective study inclu­ded 188,167 individuals aged 45 years and older from the Sax Institute's 45 and Up Study of randomly sampled men and women from the general population of New South Wales. Linked questionnaire, hospitalisation and death data were available for all participants, who were CVD­ and cancer­free at baseline.
During a mean 7.2 years' follow up, current smoking significantly increased event rates for 29 of the 36 most com­mon specific CVD subtypes.
CVD risks were elevated at almost all levels of smoking intensity and the risks increased with greater smoking intensity.
Risks were, however, reduced with quitting, with excess risks largely avoided in patients who quit before age 45 years.
Coauthor, National Heart Foundation General Manager of Heart Health & Research and health economist, Mr Bill Stavreski, told Medicine Today that this study unequivocally showed how deadly smoking was when it came to heart attack and stroke and the benefits of quitting immediately.
'GPs are at the frontline in encouraging and supporting their patients to quit and these findings can be used as a springboard to have that conversation,' he said.
'We know that even brief, simple advice delivered by GPs about giving up smoking can increase a patient's chances of quitting successfully.'
BMC Med 2019; 17: 128; https://doi.org/10.1186/s12916-019-1351-4.