The Australian Snakebite Project – what have we learnt?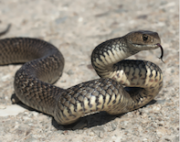 By Jane Lewis 
Snake envenoming in Australia – although often severe – is much less common than previously estimated, according to the findings of the Australian Snakebite Project 2005–2015. 
Published in the Medical Journal of Australia, the study also found that long delays in administering antivenom remain common, and better diagnostic and management strategies that identify envenomed patients more quickly are needed. 
Professor Geoff Isbister, clinical toxicologist at Calvary Mater Newcastle, clinician researcher at the University of Newcastle, and an author of the MJA paper, told Medicine Today that the study documents a number of important issues for GPs, mainly those in rural and regional settings. 
'Most doctors are only going to be dealing with envenomation very rarely. For this reason, we recommend they contact the National Poisons Information Centre Network [Phone 13 11 26, from anywhere in Australia] for advice and have available the appropriate state guidelines for snake bite, or refer to eTG [Therapeutic Guidelines],' he said. 
The prospective, multicentre study included 1548 patients with suspected snakebites. Among 718 envenomed patients for whom the snake type was known, brown snakes (41%), tiger snakes (17%) and red-bellied black snakes (16%) accounted for most cases. There were 23 deaths over the 10-year period: 17 attributed to brown, four to tiger and two to unknown snakes. Seqirus snake venom detection kit test results were found to be unreliable, with 4.9% reported to be incorrect (29 of the 597 tests in envenomed patients) and 36% indicating false positives (133 of 364 tests in nonenvenomed patients). 
Of 755 patients who received antivenom, 178 (24%), including 10 nonenvenomed patients, had systemic hypersensitivity reactions, of which 45 (6%) were severe. Although the median total antivenom dose decreased from four vials to one over the 10-year period, with no evidence of adverse consequences for patients, the median time to first antivenom remained unchanged (median, 4.3 hours; interquartile range, 2.7 to 6.3 hours).
According to Professor Isbister, hospitals now need to keep much less antivenom on hand and snake venom detection kits no longer need to be stocked. 
'When a patient with a snakebite presents early, seeking advice about immediate antivenom, prior to even doing blood tests, is recommended. This is particularly important for hospitals where there is no laboratory available to do an INR. In these cases, the use of antivenom prior to retrieval may be highly beneficial,' he said, adding that because of the risk of a reaction, clinical toxicology advice is important.
Med J Aust 2017; 207: 119-125. 
Picture credit: © Kristian Bell/Shutterstock