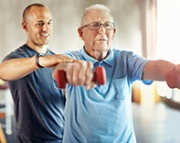 Australian study finds resistance training improves cognitive function in older adults
By Jane Lewis
A randomised controlled trial, led by researchers at the University of Sydney and published in the Journal of the American Geriatrics Society, has found that high-intensity progressive resistance training (PRT) can significantly improve cognitive function in older adults with mild cognitive impairment (MCI), and that strength gains mediate these cognitive benefits.
'Although most research to date has focused on aerobic exercise such as brisk walking, there is emerging evidence that resistance training – strength training or weight lifting – may be equally if not more powerful in terms of brain health and cognitive function,' Professor Maria Fiatarone Singh, geriatrician at the Sydney Medical School, University of Sydney, and senior author on the paper, told Medicine Today.
The research was based on results of the SMART (Study of Mental and Resistance Training) trial, first published in 2014, which demonstrated that six months of PRT (two days per week) significantly improved global cognitive function in community-dwelling adults with MCI (n=100; age >55 years), as measured by tests including the Alzheimer's Disease Assessment Scale-cognitive subscale (ADAS-Cog). In addition to its effects on cognitive function, PRT also significantly increased upper, lower and whole body strength, and percent change in VO2 peak (8.0%), compared with sham exercise.
The current study set out to further investigate the effect of PRT, finding that that improvements in strength, rather than aerobic capacity, mediated the improvements in ADAS-Cog and global domain. A near significant mediating effect of strength on executive function was observed, with no effect observed on memory domain.
'Although we don't yet know how it works, there is evidence that individuals who gain the most strength after weight lifting exercise also enjoy the most cognitive benefits,' explained Professor Fiatarone Singh. 'It may be that a common factor, such as a growth factor that is good for both muscle and neural tissue, explains this association. More research is in progress to identify the molecular biomarkers and pathways involved so that optimum interventions can be designed and tested.'
Strength training has many other benefits for older adults – helping to address sarcopenia, osteoporosis, arthritis, diabetes, neurodegenerative diseases and many other conditions, in ways in which aerobic exercise does not – and can be 'far more feasible' than aerobic exercise in those with severe mobility impairment, arthritis or low thresholds for ischaemia or dyspnoea, she added.
J Am Geriatr Soc 2016; doi: 10.1111/jgs.14542.
Picture credit: © Yuri_Arcurs/iStockphoto. Models used for illustrative purposes only.