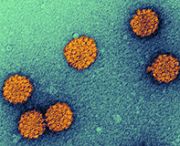 Australian vaccination program reduces HPV in young men who have sex with men
By Melanie Hinze
A gender-neutral, school-based human papillomavirus (HPV) vaccination program in Australia has been shown to reduce HPV rates in young men who have sex with men (MSM).
The study, published in Lancet Infectious Diseases, was a repeated cross-sectional design study involving 400 MSM aged 16 to 20 years, divided into a prevaccination cohort (n=200) and a postvaccination cohort (n=200). The prevaccination group was obtained from the HYPER1 (Human Papillomavirus in Young People Epidemiological Research) study (conducted from 2010 to 2012) and the postvaccination cohort was obtained from the HYPER2 study (conducted from 2017 to 2018). Men in both cohorts were recruited via sexual health clinics, dating apps, social media and the community in Melbourne, and those who self-identified as being same-sex attracted were enrolled.
The study showed a significant reduction in the prevalence of vaccine-targeted HPV genotypes in the anus, penis and oral cavity in young MSM in the postvaccination period. The postvaccination cohort also showed a significant reduction in anal HPV16, which is the main genotype associated with anal cancer.
Study author, Associate Professor Eric Chow, who is Head of the Health Data Management and Biostatistics Unit at Melbourne Sexual Health Centre, Alfred Health and Monash University, Melbourne, told Medicine Today that Australia was one of the very few countries that had implemented a gender-neutral school-based HPV program. In addition, very high vaccination coverage rates in both boys and girls were seen, showing that the HPV vaccination program was very successful.
'Gay and bisexual men have a high prevalence of anal HPV infection,' he said. 'Our study has shown that the vaccine is effective in reducing HPV infection [in MSM and provided] some promising evidence that this may lead to a reduction in HPV-related cancer in the future.
The study authors noted that, compared with heterosexual men, MSM were less likely to benefit from female-only HPV vaccination programs and their results showed that MSM could receive additional benefits from programs that also included men.
Lancet Infect Dis 2021; https://doi.org/10.1016/S1473-3099(20)30687-3.