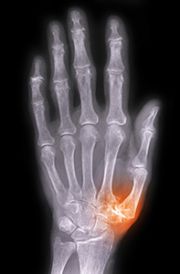 © SCIENCE SOURCE/SCOTT AMAXING/DIOMEDIA.COM
Benefits of conservative therapies for thumb-base osteoarthritis
By Nicole MacKee
Patients with thumb-base osteoarthritis may benefit from a combination of simple and inexpensive interventions, Australian researchers say.
In a randomised clinical trial published in JAMA Internal Medicine, 204 participants were assigned to receive a combination of therapies (education on self-management and ergonomic principles, a base-of-thumb splint, hand exercises and diclofenac sodium 1%, gel) or education alone.
The mean age of the participants was 66 years, and most were female (76%). Participants were instructed to use treatments until a six-week assessment. After this, they were encouraged to use treatments at their own discretion until a final assessment at 12 weeks.
Pain was rated according to a visual analogue scale (0 to 100mm) and hand function was assessed using the Functional Index for Hand Osteoarthritis.
At the six-week assessment, the researchers found that the intervention improved hand function (between group difference, ‒1.7 units), and function continued to improve up to the 12-week assessment (‒2.4 units).
Pain scores were similar in both groups at six weeks, but by 12 weeks, pain reduction was significantly greater in the intervention group (‒8.6mm).
Coauthor Professor David Hunter, Chair of the Institute of Bone and Joint Research and Professor of Medicine, The University of Sydney, said osteoarthritis of the hand was a disabling and common condition, affecting up to one in three women aged 70 and over. Current treatment options, he said, provided only modest benefit.
'The standard modalities of management employed by most clinicians consisted largely of the use of analgesic medicines, such as anti-inflammatories,' Professor Hunter said. 'When these fail, and a person still has persistent pain, referral to a surgeon for joint replacement or reconstruction [is the next step].'
'Adherence to the treatment for the first six weeks was almost universal,' Professor Hunter said. 'From 6 to 12 weeks, when continued reinforcement and engagement of the study personnel slowed, [participants'] adherence did decline, but only modestly.'
Professor Hunter said the interventions tested were 'widely available, relatively inexpensive and safe'.
'We have found them to have clinically meaningful effects for people disabled by thumb-base osteoarthritis,' he said. 'We encourage clinicians to start using these interventions either in their own practices with their patients or through engagement with local hand therapists or occupational therapists who may help with the implementation of these findings.'
JAMA Intern Med 2021; doi:10.1001/jamainternmed.2020.7101.