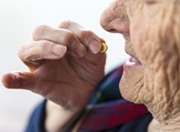 © TOLGAILDUN/STOCK.ADOBE.COM MODEL USED FOR ILLUSTRATIVE PURPOSES ONLY
Benefits of prompt antibiotic treatment in older people with clear-cut UTIs
By Nicole MacKee
Older people with urinary tract infec­tions (UTIs) may benefit from immediate prescribing of antibiotics, say UK researchers after they found higher rates of sepsis among patients for whom antibiotic therapy was deferred.
In their retrospective study, published in the BMJ, the researchers compared 60­day outcomes for more than 150,000 patients aged 65 years and older who had presented to a GP with suspected or confirmed UTI. They found that patients who had been prescribed antibiotics within seven days of the initial consultation (deferred antibiotics) or not at all were significantly more likely to experience bloodstream infection than patients prescribed antibiotics at the initial consultation (adjusted odds ratio, 7.12 and 8.09, respectively). These patients' 60­-day all­-cause mortality risk was also significantly higher than those given immediate antibiotics.
The researchers also found that the rates of hospital admission among patients cases given deferred antibiotics or no antibiotics were almost double that of those prescribed immediate antibiotics (26.8%, 27.0% and 14.8%, respectively).
Professor David Paterson, Director of The University of Queensland Centre for Clinical Research and infectious diseases physician, said there were enough similarities between the UK and Australia to make the findings relevant here, but local research would provide further guidance. He said it was important to note that this study was looking only at people aged 65 years and over.
Professor Paterson said the key message in the study was that older patients with clear­-cut symptoms of UTI should be commenced on antibiotics immediately.
'If it's not as clear cut, I think the Australian approach – do appropriate tests and get the patient back and not necessarily give them antibiotics on day zero – is still the appropriate way we should be managing our patients.'
Professor Paterson said early treatment was important in targeted populations, but this had to be backed up with good clinical acumen.
'England has a national target for reducing bloodstream infections,' he said, pointing to the UK Government's commit­ment to halve the incidence of sepsis by 2021. 'Sometimes there can be inadvertent consequences of going very hard after a target. You might be able to reduce bloodstream infections by giving a huge proportion of the population early antibiotics, but that goes against [antibiotic] stewardship principles and the consequences might be that you're misdiagnosing some other diseases and raising the risk of Clostridium difficile [infection, for example].'
BMJ 2019; 364: l525.