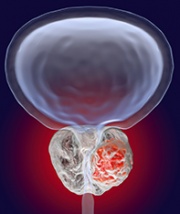 © KATERYNA_KUN/STOCKADOBE.COM
Benign prostatic hyperplasia treatment could mask emerging prostate cancer
By Bianca Nogrady
The use of 5-alpha-reductase inhibitors (5-ARIs) to treat benign prostatic hyperplasia could mask emerging prostate cancer by reducing prostate specific antigen (PSA) levels, a new study has found.
Writing in JAMA Internal Medicine, researchers report the outcomes of a US-based population-based cohort study in 80,875 men with stage I to IV prostate cancer, linking data from the Veterans Affairs database with the National Death Index.
They found that the prostate cancer was diagnosed significantly later among individuals who were being treated with 5-ARIs; the median time from first elevated PSA test to prostate cancer diagnosis was 3.6 years, compared with 1.4 years among participants not treated with 5-ARIs.
Patients treated with 5-ARIs also had a significantly higher median PSA – adjusted to account for the impact of treatment – at the time of their biopsy for prostate cancer than patients not on 5-ARIs. They were also significantly more likely to have a prostate cancer that was Gleason grade 8 or higher, clinical stage T3 or higher, node-positive and metastatic.
Treatment with 5-ARIs was associated with 39% higher prostate cancer-specific mortality and 10% higher all-cause mortality.
'Our data suggest that PSA suppression in 5-ARI users was not routinely accounted for during prostate cancer screening and led to delays in prostate cancer diagnosis, which in turn may have resulted in advanced disease and worsened clinical outcomes,' the authors wrote.
Commenting on the study, urological surgeon Professor Shomik Sengupta said these widely-used medications were known to reduce PSA levels by around 50%, and even more in some patients.
'The corollary of that is if patients are having PSA tests and are on these drugs, we need to formally correct for that, but that doesn't happen automatically,' said Professor Sengupta, Genitourinary Oncology Advisor to the Urological Society of Australia and New Zealand, and Professor of Surgery and Deputy-Head, Eastern Health Clinical School at Monash University, Melbourne.
Professor Sengupta told Medicine Today there was no evidence that men with benign prostatic hyperplasia were at greater risk of developing prostate cancer. However, given the known impact of 5-ARIs on PSA levels, if they are having their PSA levels checked it is important to 'make the connection that the actual PSA is double the measured value.'
JAMA Intern Med 2019; doi: 10.1001/jamainternmed.2019.0280.